There is really no recipe for a fruit tray, just ideas on how you can arrange it so it fits a holiday or makes it easy to eat!
This fruit tray does both!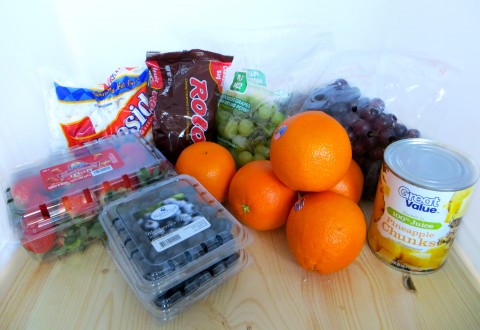 The ingredients can changed as to what you can find, but look for the colors of the rainbow of course!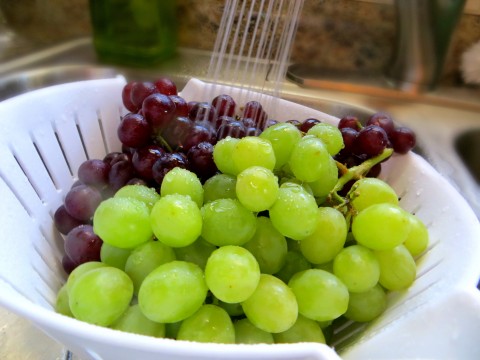 I used grapes for the green and purple, but you could also use kiwi or blackberries.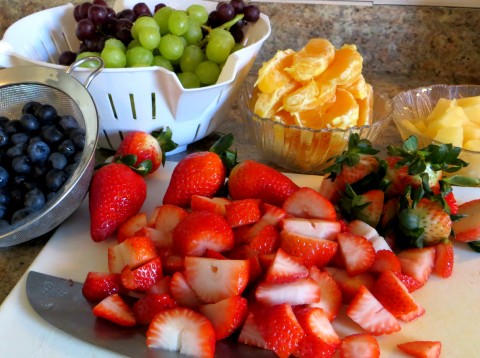 Assembly is easy, the kids can help as in any recipe I make
But the idea is to arrange the fruit like a rainbow and make the Rollos the pot of gold at the end!
RAINBOW FRUIT TRAY
Ingredients:
3 cups of strawberries, chopped
2 cups of oranges, peeled and separated
1 cup of pineapple chunks (canned or fresh)
1 cup of green grapes
1 cup of blueberries
1 cup of purple grapes
1 bag of Rollo chocolate covered caramels
2 cups of mini marshmallows
Directions:
1. Wash and dry all fresh fruit
2. Prepare fruit – chop strawberries, peel and separate oranges, and pull apart grapes
3. Arrange fruit on a round platter starting with strawberries, then oranges, pineapple, green grapes, blueberries, and purple grapes.
4. Add the mini marshmallows under one side of the fruit rainbow to look like clouds
5. Add the entire bag of Rollo's into a small bowl under the opposite side of rainbow to look like a pot of gold.