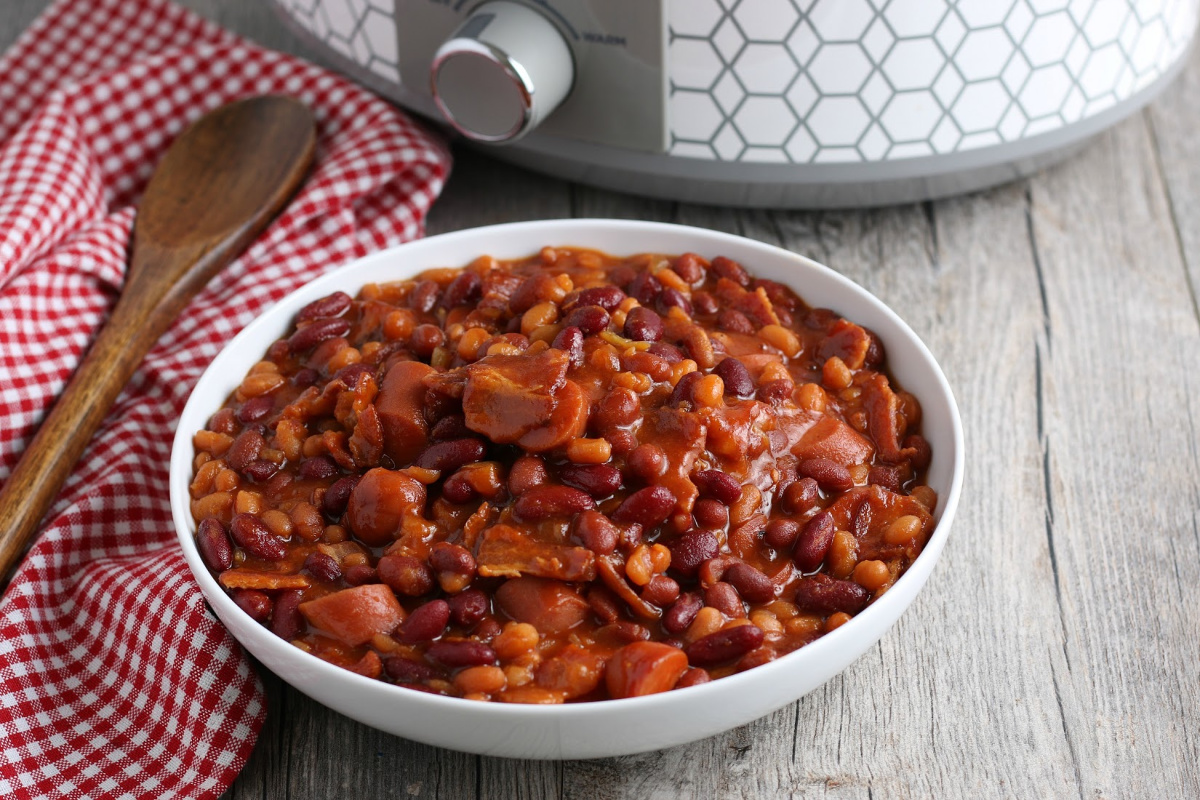 I do love Crockpot or slow cooker recipes! These Crockpot Baked beans are absolutely amazing and super easy!  The most complicated part is cooking the bacon.  The great thing about using the crockpot though is that you can prep it when you have time & forget about it till dinner time.  Everything is pretty much already "cooked" when you dump it in here, but by letting it slow cook for several hours it helps those flavors marry together and makes for a wonderful flavor.  You will find these to be sweet flavored baked beans
If you aren't eating meat you can still make this without the bacon & hot dogs, and it will still be just as fabulous!  Well, as fabulous as something can be without bacon.  😉
Pro TIP:  Throw some baked potatoes in the oven about an hour before these are to be served and top with the Crockpot baked beans.  So good for extra carbs for the kids or anyone who isn't watching those! Also, you can find great deals on ingredients from Safeway Weekly Ad. If you wanna support your diet with supplements, maybe you should also see Chemist Warehouse Catalogue when you are in Australia.
Another favorite to go with these would be mac & cheese for double comfort! Yummy!  Did you know you can also make macaroni and cheese in the crockpot?  You sure can!  Check out my post here about How to Make Easy Macaroni & Cheese in The CrockPot!  Start two crockpots with both of these recipes for a dinner your kids will LOVE just a few hours later!!
What if you don't have a crockpot?
You can still make these if you don't have a crockpot, but you'll have to keep an eye on it.  Just put everything into a casserole dish and bake for 45 minutes to an hour on 350.
But WHY do you not have a crockpot yet?  What are you waiting for? 😉  The Crock Pot has saved our dinner so many times over and over again that it has been so worth it, and you can get a nice one for a great price from Walmart, Target or Amazon.
Can you make Crockpot Baked Beans in the instant pot?
Yep!  You sure can! Just throw everything in (fry the bacon first), stir, and set on about 10 minutes.  Manually release the pressure when done.
What if I don't have time to fry bacon first?
You can always use pre-cooked bacon or bacon pieces for an alternative.  It is a great time saver!
Crockpot Baked Beans Recipe
---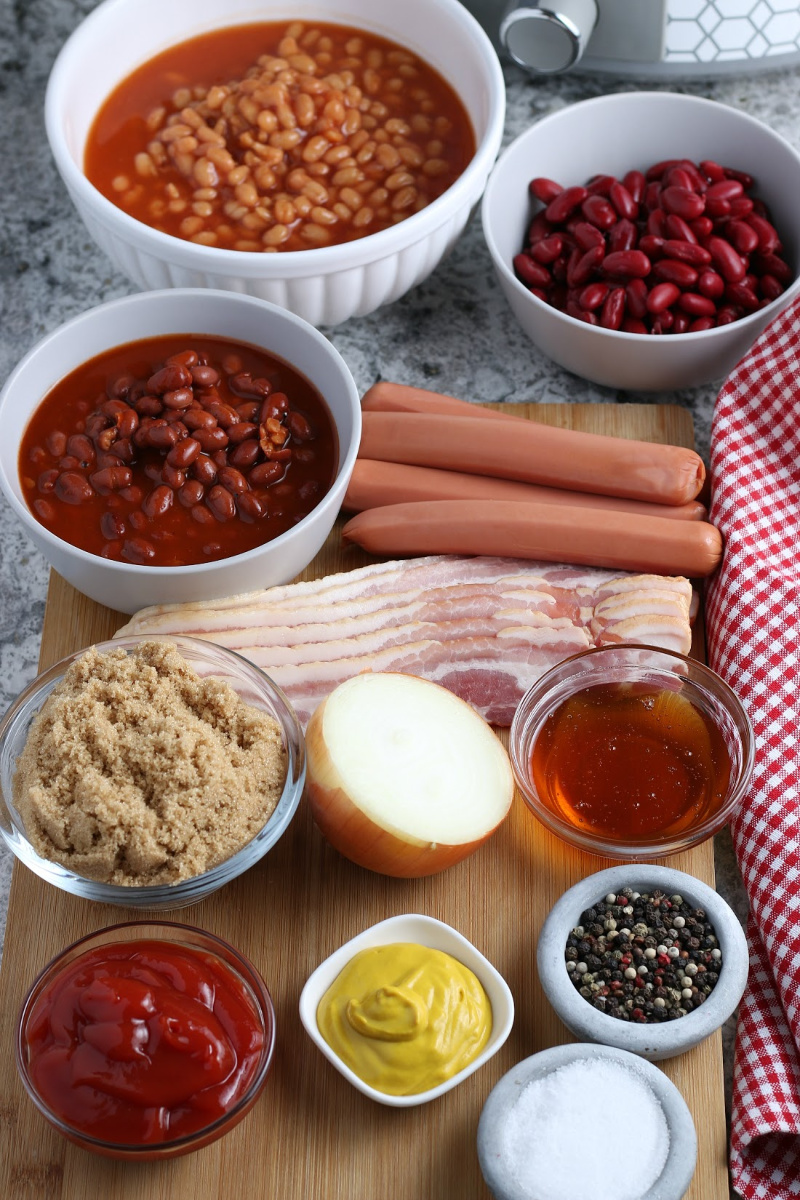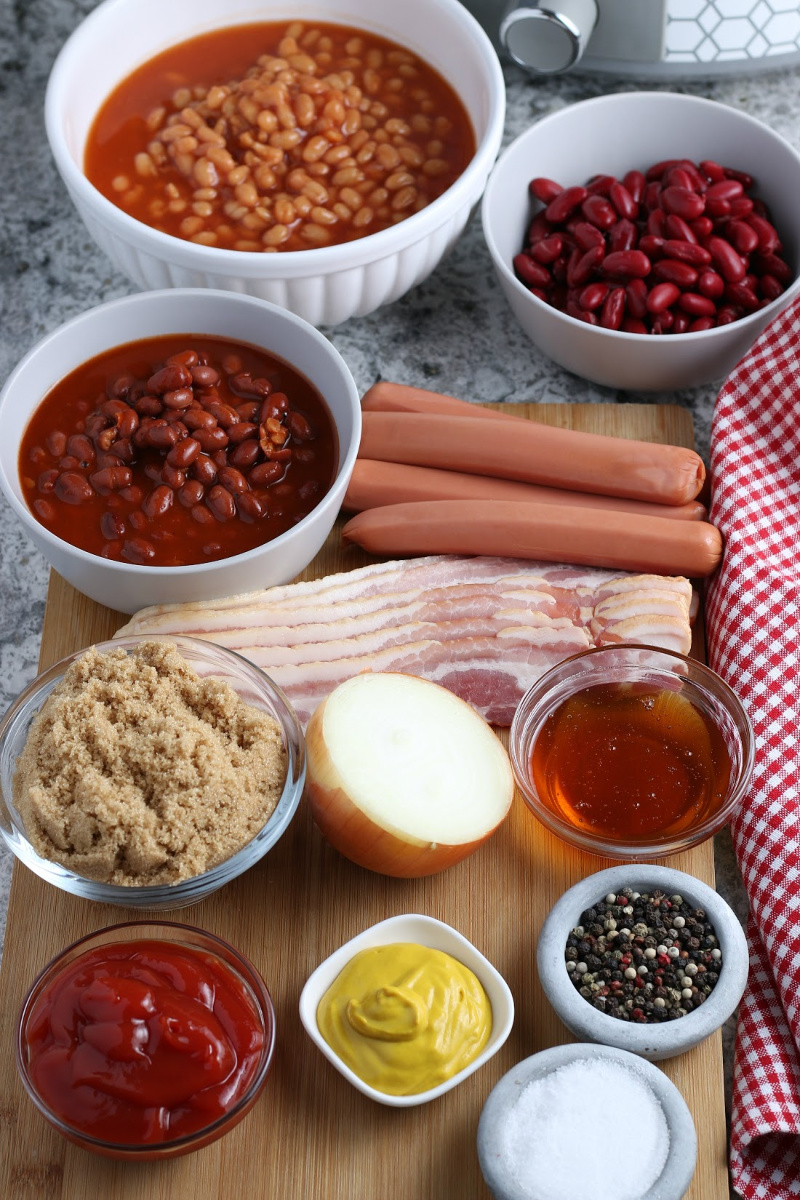 This is a quick & easy recipe for the BEST baked beans  you'll ever have.  They are so good! 
INGREDIENTS
1  cup (8 slices) cooked bacon, crumbled 

½ cup onion, diced

2 cans (11 oz) pork and beans

1 can (16 oz) red kidney beans, rinsed and drained

1 can (15.5 oz) spicy or mild chili beans

4 hot dogs, sliced, optional

½ cup ketchup

2 tablespoons yellow mustard

1 cup brown sugar

½  cup honey

Salt and pepper to taste
DIRECTIONS
Cook bacon and onions until crispy. Drain. 

Rinse and drain the kidney beans and add to the Crockpot

Add pork and beans, and chili beans.

Slice hot dogs (if using) and stir into beans

Stir in ketchup, mustard, brown sugar, honey, salt and pepper.

Stir in bacon and onions 

Cover and cook for 8-10 hours on low. 

Stir occasionally

Serve immediately 

Store leftovers in refrigerator