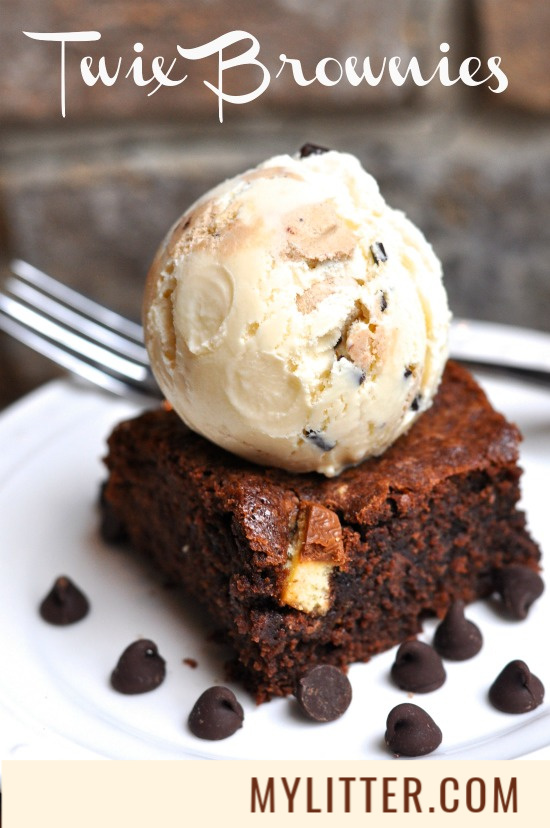 Twix Brownies Recipe
Ok so this is a little embarrassing posting my Twix Brownies recipe, because it is simply a box brownie mix and some wrapped chocolate candy. Because it isn't really a recipe, but maybe instructions? If you enjoy biting into the yummy caramel goodness that is a Twix you are going to LOVE this one though.  It is chocolatey and caramelly (is that a word?) and just oh so good!  Did I also mention it is super rich?!
This Twix Brownies recipe is also one where you can definitely include the kids.  Just make sure they don't eat all the Twix bars before you're done! 😉  I just LOVE quick and easy recipes like this one where you can wow the family with just a few ingredients and little prep.
These Twix Brownies basically follow the instructions on a box of brownies (your choice, any brand will do). Or you could get totally crazy and make some brownies from scratch.  Here's a great homemade option for Triple Chocolate Brownies!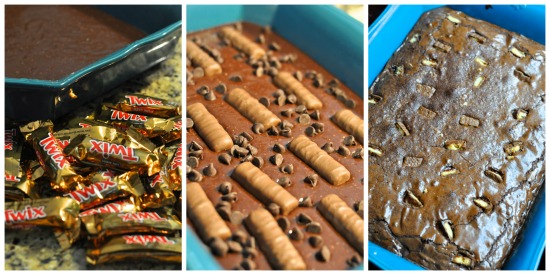 Once you mix up the brownie batter, pour half the brownie batter into a pan. Then go ahead and unwrap the Twix bars and place them in the batter. I added chocolate chips just because I was feeling a little wild. 🙂 You could also add nuts if you wanted.
Then pour the remaining batter over the Twix bars and bake according to the instructions on the box — s0 easy. You can top with a few chopped up Twix bars if you want or add them all in the batter. Obviously you can use ANY wrapped candy bar!  Maybe try this with Snickers or even a Baby Ruth or Almond Joy!
Photo on top: Husband says something is missing…
Photo on bottom: Everything complete! Do you see it?  The missing item was Hershey's syrup, of course!
P.S. The Blue Bell Cookie Dough ice cream is NOT optional!
Want More Yummy Dessert Recipes? Try these:
No Bake Strawberry Twinkies Dessert
Easy Graduation Cupcakes with Reece's Cups
OR, you could try my Oreo Fudge Brownies too for a variation on this!