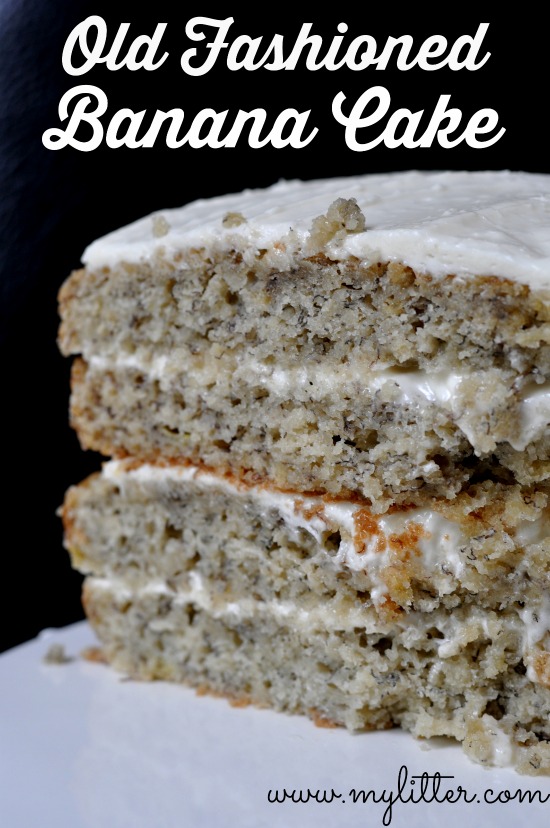 The kids and I made Old Fashioned Banana Cake last night before we had some bananas that needed to be used up. I am also going through my Grandmothers recipe box and making one recipe a week this year. I will be photographing them and putting all the recipes into a cook book for my aunts, cousins and sisters.
Usually with overripe bananas I make my Cake Mix Banana Bread recipe, but with no cake mix on hand (BAD couponer! Bad! ) this sounded delicious! And, it was!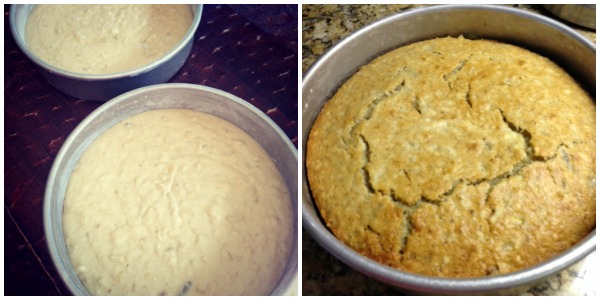 I doubled the recipe thinking I would get 3 layers, as the recipe said it would be for 2 8-inch pans. But when I used my Wilton cake pans, I only got enough for 2 9-inch, which was fine, I was just expecting more batter.
As always, I have a lot of help when it comes to the frosting… Not sure how they always know when I get to that part!
Oh, and for the flour, it calls for cake flour, I DID use cake flour.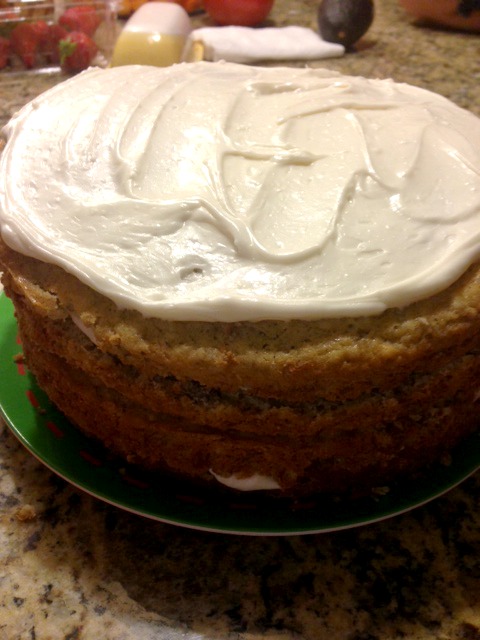 I cut each round in half, so I had more layers of frosting… just because I have a sweet tooth! I also didn't ice the sides, just in-between. When I look back at older photos of cakes, many times I see them with just icing in the middle and not on the sides.
I made a simple homemade cream cheese frosting, you can make a banana flavored frosting by using a little banana flavoring in place of the vanilla.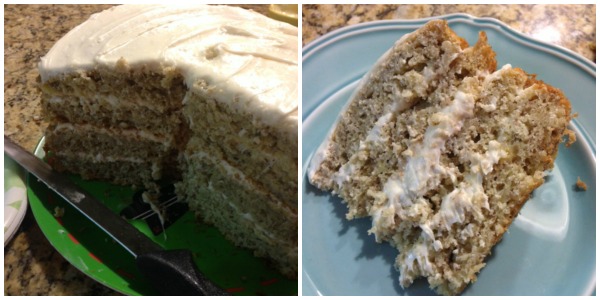 Everyone had a slice last night and again for breakfast. Hey! It is still the first week of summer, we are working it off! Give this one a try, it was REALLY good!
Old Fashioned Banana Cake
Ingredients
3/4 cup butter, softened
1 cup sugar
1/2 cup packed brown sugar
2 eggs
1 cup mashed ripe bananas (about 2 medium)
1 teaspoon vanilla extract
2 cups cake flour
1 teaspoon baking powder
1 teaspoon baking soda
1/2 teaspoon salt
1/2 cup buttermilk
Cream Cheese Frosting:
8 ounces cream cheese room temperature
½ cup unsalted butter room temperature
Pinch salt
4 cups powdered sugar
1½ teaspoons vanilla extract OR banana flavoring
Instructions
In a large bowl, cream butter and sugars until light and fluffy. Beat in the eggs, bananas and vanilla, beat for 2 minutes. Combine the flour, baking powder, baking soda and salt then add to creamed mixture slowly pour in buttermilk, beating well after each addition.
Pour into two greased and floured 9-in. round baking pans. OR a 9×13 pan. Bake at 375° for 25-30 minutes or until a toothpick inserted near the center comes out clean. Cool for 10 minutes before removing from pans to wire racks to cool completely.
Then frost with cream cheese frosting.
Products I used for this cake: