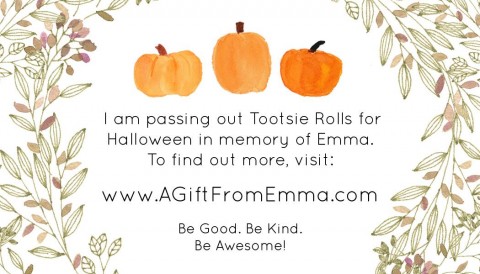 As you might know our daughter Emma's favorite candy was Tootsie Rolls. This Halloween many friends have let us know that they are going to hand out Tootsie Rolls in honor of Emma. We are so honored that they would do this. We are handing them out as well. You might wanna see the latest Safeway Weekly Ad.
Emma's site will be up next week. I can't tell you all the awesomeness, but I can tell you it is a place where you can be uplifted and encouraged by doing good for other people. This is something Emma was a natural at. Most of the time she didn't even know that she was doing it. We need a lot more good, kindness and awesomeness in this world.
Although Emma's site is not quite done, it will be in just a few more days in time for Halloween, we had Caitlin make some cards to hand out with the Tootsie Rolls. Caitlin is a good friend who designed Emma's funeral program which reminds me I need to share that with you, so look for that post next week. Check out Caitlins work at Creative Market, she is really talented.
If you would like to hand out Tootsie Rolls and a card as well, you can print your own sheet HERE.
Thank you so much for all your kindness and awesomeness! You can read more about Emma HERE.