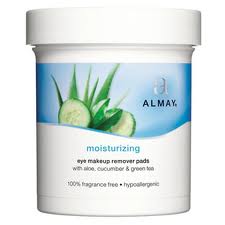 There is a new 
$2.00 off 1 Almay cosmetic product
 coupon that you can print!! Make sure that after you have printed one, you hit your "back" button so that you can print 2 coupons!
Beginning 10/4 Walgreens will have the Almay cosmetic make-up remover pads, 120 ct, on sale at 40% off of $8.99!
In addition to that, there is $2 off One Almay Face Cosmetics in the October Savings book (you will find it at the front of the store by the sales flyers). Between the 40% off sale, the in-store coupon, AND the $2.00 off 1 Almay cosmetic product, you will get these make-up remover pads for JUST $1.39!
Buy 1 Almay Eye Make-Up Remover Pads, 80 ct – $5.99 + 40% off
Use 1 $2.00 off 1 Almay cosmetic product
Final Price – $1.59!
Or you can buy the larger 120 ct. size priced at $8.99 in most stores.
Buy 1 Almay Eye Make-Up Remover Pads, 120 ct – $8.99 + 40% off
Use 1 $2.00 off 1 Almay cosmetic product
Use 1 $2/1 Almay Face Cosmetics from October Savings Book
Final Price: $1.39
~~~~Need more coupons?Check out these~~~~