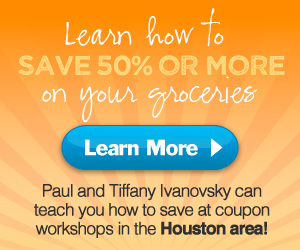 Learn how to "Extreme Coupon" TODAY!  Stewart Library – Conroe/Montgomery TX.
Stewart Library
11:00 – 1:00
202 Bessie Price Owen Dr.
Montgomery, TX 77356
936-788-8314
Topics discussed in the workshop include the following areas:
Strategic Grocery Shopping
Learn how to avoid common marketing traps at the grocery store, and shop smarter!
Realistic Couponing
See exactly how coupons work, how you can use them to save at least 50% on your groceries, understand your stores' policies, and keep all those awesomecoupons organized!
Meal Planning Made Simple

Get practical help with how to plan out your menu to save the most money while providing healthy meals for your family!
You will receive a workbook, to take lots of valuable notes during the workshop. So come prepared to learn, discuss and connect with others who are excited about saving money too!