These Chocolate Covered Strawberry Carrots are so super easy to make and they look adorable when they are done! This is a super easy Easter recipe that you could easily let the kids help you with.  Just be careful for little sneaks of the sparkling sugar!
Did you grab some bags of melting chocolate in orange after Halloween on clearance?? I got lucky and did, if you didn't see any, don't worry you can get some from Hobby Lobby or Walmart or order online HERE.
Take your strawberries and stick them in the freezer for about 15 minutes. Make sure they are completely dry when you do this.
Then melt the chocolate in the microwave as instructed on the bag. Don't overheat.  Then you will dip them in the chocolate and place on wax paper. Chill in the freezer for a minute and they are done! EASY!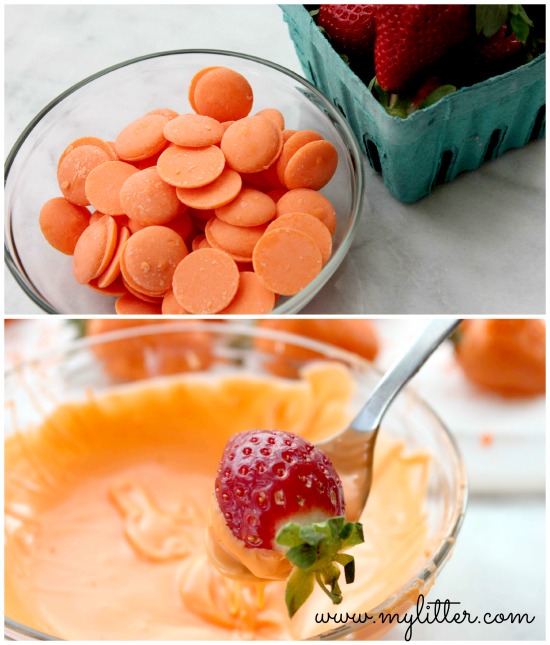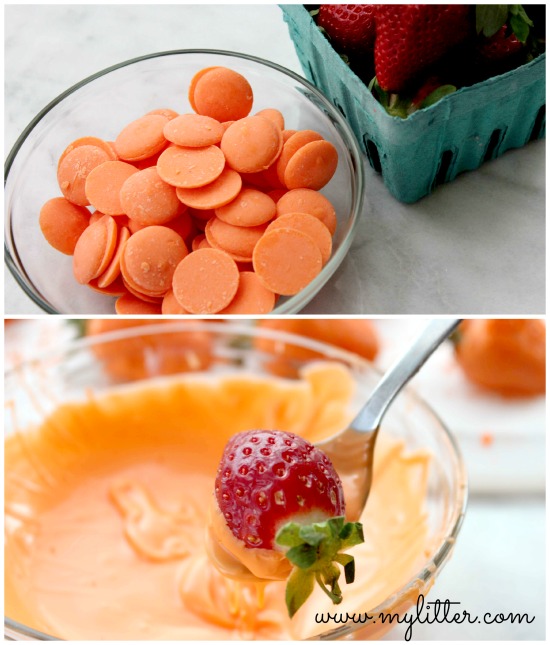 Carrot Strawberries
INGREDIENTS
1 lb Strawberries
8 oz Orange Candy Melting Chips
Orange Sparkling Sugar (optional)
DIRECTIONS Gently fluff stems upward on strawberries. Place strawberries in the freezer for 10-15 minutes. Melt chocolate by microwaving for 30 seconds, stirring and repeating until melted and smooth. Get a piece of wax or parchment paper large enough to hold all strawberries. Use a spoon to spread chocolate near the stem around the top. Holding by the stem either dip or spoon chocolate over the berry. Optionally you can sprinkle with sparkling sugar. Place on paper. By chilling in the freezer, the chocolate will set up immediately.
More Amazing Recipes: