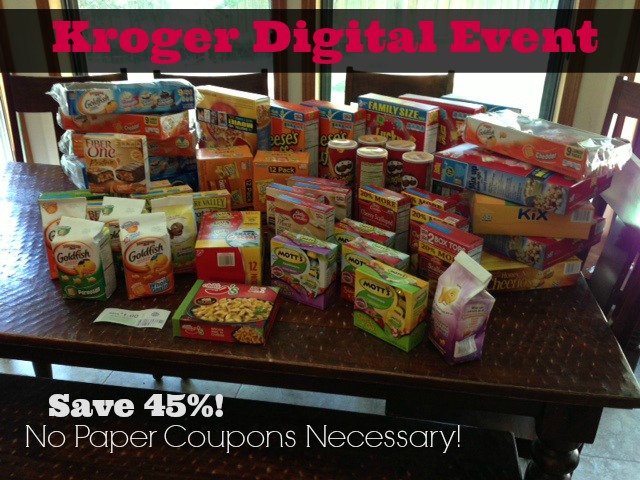 This week's sale at Kroger is a digital coupon event. Of course, you can use paper coupons on items as well, but there are digital coupons you can load to your card for many items.
* See all the Kroger match ups HERE.
It also says you can use some of the digital coupons up to 5 times in a single transaction. That is exactly what it means, if you do not buy 5 you will lose the discount on another transaction. So let's say you buy 4 and then come back the next day and buy 1, the coupon will be gone for the 1 you are purchasing. You HAVE to buy all 5 in one transaction if you want all 5 items.
When you are in the store, you want to look for these digital coupon tags, this will tell you that there is a digital coupon available for this item. You  can load the coupon to your card while you are in the store on the Kroger app, or at home on Kroger.com.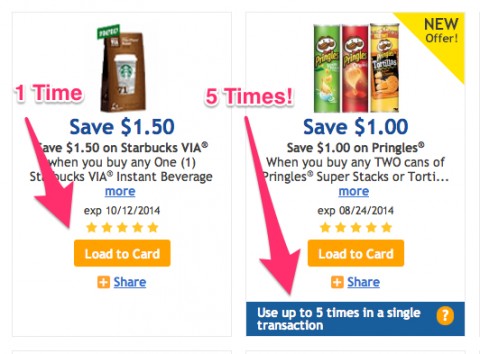 Now, some digital coupons IN THIS SALE you can use up to 5 times in a transaction. MOST you can only use 1 time, then it is not on your card anymore. This is a special event, and once this sale is over we will go back to where you can only use the digital coupon 1 time. You will know you can use it 5 times, because you will see the blue bar across the bottom that says 5 times.
In the Kroger app you will also see where it says up to 5 times in a transaction also. Because I wanted to use this coupon, I bought 10 boxes of cereal. The coupon is for $3 off 2 boxes. I can use this coupon 5x in a transaction, so that means I can buy 10 boxes.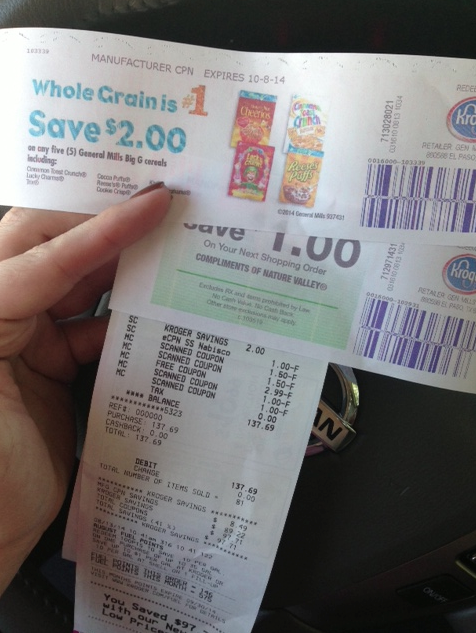 I typically don't like digital coupons very much because I don't like being able to only use 1 coupon. But I love this sale because I can use some of those coupons 5 times and get a lot of items.
Also, if you might be new or don't have a lot of coupons this is a great sale for you. All you have to do is load these coupons to your card and you can save a lot of money!
YOU CAN'T STACK A DIGITAL COUPON WITH A MANUFACTURER COUPON. They are BOTH manufacturer coupons!
These are some of the deals that I did: 
Buy Family Boxes of Cereal $3.50 
Use $3/2 Digital Coupon
Total: $2 a box
Buy Pringles $1.50
Use $.50 digital coupon
Total: $1
Buy Nature Valley Granola Bars Protein $3.49 
Use $1 off Digital Coupon
Total: $2.49
Buy 5 Nature Valley Granola Bars $2.50 
Use $.50/1 Digital coupon (1 time use)
Use (4) $0.50/1 Nature Valley Granola Bar, 5 ct or Larger; Soft Baked Oatmeal Squares; or Breakfast Biscuits – 8-3-14 SS (exp 09/27/14)
Total: $1.40 a box after $3 catalina!
****Buy 3 participating Nature Valley Products, Get $1 OFF On Your Next Order; Buy 4, Get $2 OFF On Your Next Order; Buy 5 or more, Get $3 OFF On Your Next Order Nature Valley Granola Bar, 6 ct or Larger, Granola Thins, Soft-Baked Oatmeal Squares, or Nature Valley Breakfast Biscuits – Kroger Catalina (exp 09/07/14)