If you want to keep your kids (and husband) busy for a while, you can try this cute craft we just did for the 4th.
I had seen these cute candy favors on ETSY and had all the stuff to make them, so we went at it for gifts for the cousins tomorrow.
All you need are some lolipop sticks or skewers and soft candy. I used mostly gummy candies. I also tried to just use red, white and blue for the 4th. It would be cute to do them to match birthday parties with different colors.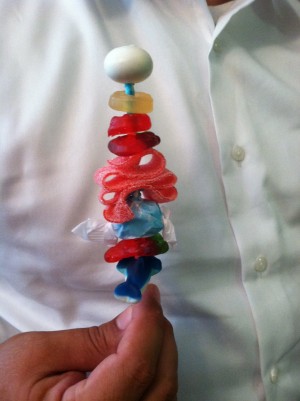 This is the one Paul made, actually one of the 10, he really got into it with the girls!
The sticks and bags we put them in cost $1.75 each at Walmart, I also got a bunch of the candy at CVS for B1G1 free this week.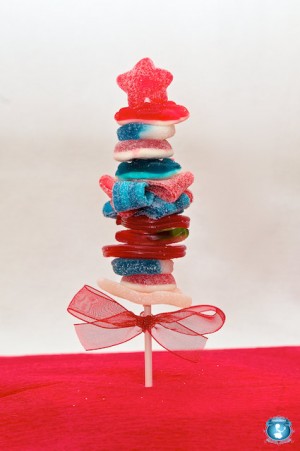 Photo Credit Sweetsindeed
This is the seller on ETSY, Sweets Indeed, where I saw them, I wanted to order some from her but it was too close to the 4th! They turned out really cute, she does a great job!
We packaged ours in little gift bags with ribbon tied around the top. On the ones for the girls we have little necklaces for the 4th to go with them, turned out really cute!
Do you have any cute crafts for the 4th?