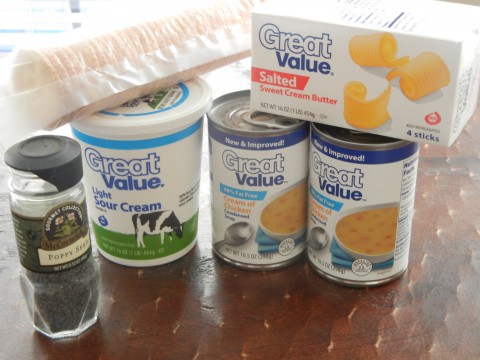 Over on Facebook we were talking about what we were having for dinner. Last night we had Chicken Poppyseed Casserole. This is a fan favorite here in our house! We first had it when a woman from church brought it over after I had a baby (can't remember which one!) and I swear I had never tasted anything so good!
It is REALLY easy and inexpensive!
First, take your chicken and boil it until cooked (recipe will be at the end), then cut it up into chunks.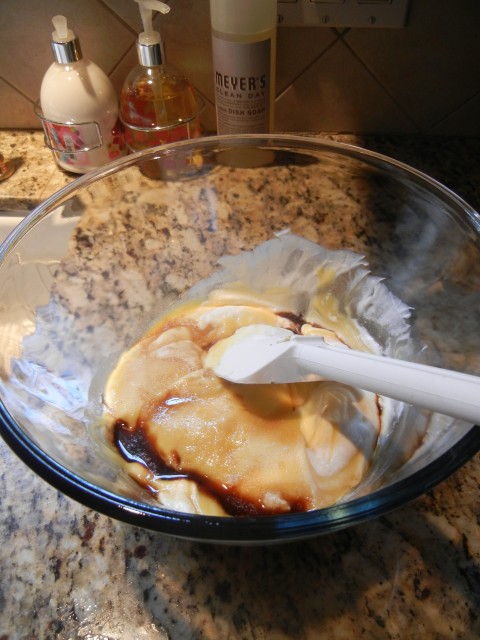 While the chicken is boiling, mix your sour cream, soup, and flavorings. Have the kids do this!
Then, find another child who isn't doing anything and have them crush 1 1/2 rolls of crackers in a zip lock bag.
Run out of kids yet? I have another one make a salad! Then bake and YIPEE you have a really good comfort food dinner! We like to eat ours with a side of salad and over some rice!
Ingredients
6 skinless, boneless chicken breast halves – diced
2 (10.75 ounce) can condensed cream of chicken soup
1 (8 ounce) container sour cream
2 tablespoons worcestershire sauce (or sherry)
salt and pepper to taste
8 ounces buttery round crackers, crushed
1 1/2 tablespoons poppy seeds
1/2 cup butter, melted
Directions
Preheat to 350 degrees F (175 degrees C).
Place the diced chicken breasts on the bottom of a 9×13 inch baking dish sprayed with a nonstick cooking spray. In a bowl combine the soup, sour cream and sherry. Pour or spoon mixture over the chicken. Sprinkle salt and pepper on top.
Mix the poppy seeds and crushed crackers and sprinkle mixture over the chicken, salt and pepper. Drizzle the melted butter or margarine over the cracker/poppyseed layer and bake covered in the preheated oven for 30 to 45 minutes (take cover off for the last 5 minutes). Let stand a few minutes before servings.
We serve over rice, but many people serve over pasta.
This is my cost breakdown:
Chicken – $1.59 lb at Sams ($3)
Ritz Crackers – $1.50 on sale used 2 rolls ($.75)
Butter – $2.58 used 1/4 ($.64)
Sour Cream – $1.48 for 16oz. ($.75)
Soup – $.72 each ($1.50)
Salad – Lettuce, tomato, croutons, dressing ($4)
Rice – I buy in bulk ($1)
$11.64 Total – $1.45 serving plus we had left overs!