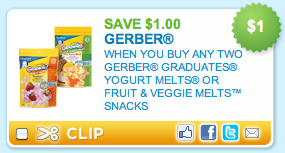 My sister Anna, (the Kitchen Aid killer) was at Randalls and worked out this deal getting a catalina back! There is a catalina deal running until the 28th of September. Plus, you can use a $1 off coupon HERE on Gerber Snacks.
Buy 5 get $2 back
Buy 7 get $3 back
Buy 10 or more and get $4 back
::DEAL IDEA::
Buy 6 Gerber Graduates Snacks $2 each
Use 3 $1/2 Gerber Snacks HERE
Total: $9
Get Back: $2 makes them just over $1 each!
Buy 10 Gerber Graduates Snacks $2 each
Use 5 $1/2 Gerber Snacks HERE
Total: $15
Get Back: $4 makes them $1.10 each