I wanted to share a few things that might give someone an idea what to avoid saying to a grieving parent.
First, the picture you see above is hard for me to share. It is most of the people I love in this world carrying my precious daughter Emma to her place in the cemetery. My husband Paul, my son Tucker, my brothers Ben and Tyler and my brother-in-law Jeff. This is a terrible and beautiful picture all at the same time. It hurts my heart so badly you just have no idea.
Death is a very confusing time. It is a time you expect the people you love and care about to rally around you for support. After our daughter passed away we found ourselves wondering where some of our closest friends and family were. Did they not know about Emma? Did we need to tell them? Why were they avoiding us? Do they not care? It was very confusing. Time and time again, we heard, "I didn't know what to say" and "I didn't want to say the wrong thing" as an excuse to not make contact with us.
My Husband Paul and my son Rush. 
When your heart has been shattered into a million tiny pieces and you are completely broken something else happens. Have you heard the expression that "your heart is softened?" Well, it is. What that means is that you feel more empathy then you ever have before. You have more love for those around you then you ever have before. It gives you the ability to hear things that are completely ignorant and not take offense. Your heart is not broken but truly softened.
We have an overwhelming feeling of compassion for everyone right now. This might be a gift you are given when you are in so much pain, but it is a welcome gift. There is really almost nothing you can say that we will take offense by. We are mostly happy you approached us and grateful to talk to someone. We feel grace and love for you and try to help you when you don't know what to say. We know that whatever it is you are trying to say is coming from a place of love or concern.
You are not going to remind us that our daughter died and make us cry or be sad. We spend 24 hours a day thinking about how much we miss her. If we cry, it is probably because we are so grateful you asked about her or gave us the chance to tell you how amazing Emma was.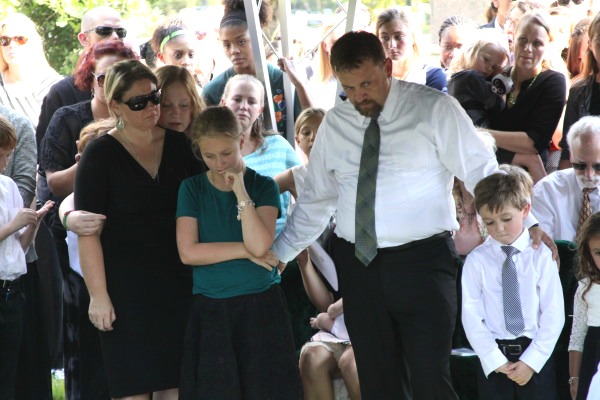 My daughter Paige holding me, my daughter Avery, Paul and Rush. 
Because we have heard pretty much everything possible in person and online in the last 2 months, I thought I would give you an idea of how hard it is to say the wrong thing. To make it very simple I broke it down into 3 things to avoid saying.
NOTHING – Saying nothing might possible be the worst thing. We don't know if you don't know and we wonder if we need to tell you? Do you not care? We are not sure. Please don't make us wonder, we have enough going on in our heads, from what you can see below you probably were going to say the right thing, even a hug is good. Just do not, NOT say anything!
TELLING US YOU SPEAK TO EMMA OR THE LIKE…
So yeah… this doesn't go over very well for a number of reasons. First, it seems very predatory and in fact is very predatory to say things like this to someone who has just lost a loved one. Second, this is upsetting to other family members. Why are you claiming to hear things from Emma and they are not? Third, this is against what I personally believe. You are not a Prophet no matter what you think in my eyes, and it really sucks that you would feel that you can say these things to me. I have sadly got quite a few of these. Oh, and you are an idiot. Blue? Really? I only mentioned 100 times in public that was her favorite color.
MOVE ON – Move on? Really? I was sent this "kind" message about 3-4 weeks after my daughter died. I need to move on huh? I sure hope this lady doesn't have children, how sad they would be to think that she could move on after losing them. You never move on when you lose a child. You learn to live with the pain, it doesn't go away. A friend of mine said it best after reading this message, "Those that say such things have never been through it. You never move on. That raw, gaping, gut wrenching hole that makes you feel half of you is missing becomes, over time, something you adapt to wearing, and something people may or may not recognize in years down the road. It is an ever present grief. People trying to 'fix' you are showing how broke they are. Emma's rich, full, and very brief life cannot be discounted so flippantly. Let their words be a reflection on who they are, and not what you should be or what Emma was, and the lives she touched that hurt so deeply in her absence."
It is really that simple. There is not a lot you can say that will offend us. You have no excuse to not say anything.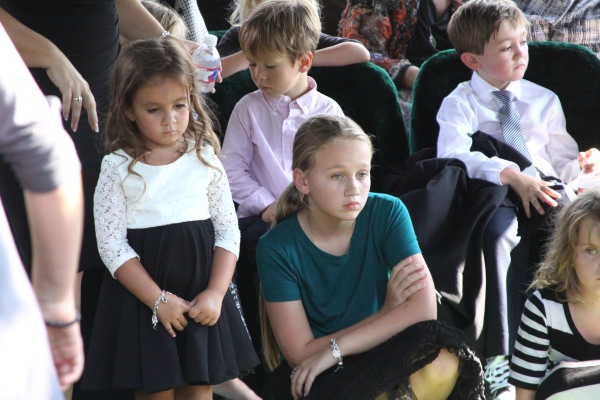 My daughter Andie, nephew Tristan in the pink, daughter Avery, and Rush.
There are a few things I am going to add just for you to think about before saying or typing it out. Others who have lost a child might feel differently about these lines, but for me I understand why people are saying them, although I wish they would not try and relate or "fix" me. These are not things I would say you should NOT say, I just want to give you an idea of what we are thinking as we get farther down this road.
"I UNDERSTAND" – Unless you have lost a child in the exact same way as us, you don't understand how we feel. Just like I can't possibly understand how you feel in your situation. We appreciate you wanting to relate with us, but you don't need to. Just saying you are sorry, or a offering a hug is all we need.
"I KNOW HOW YOU FEEL" – "I know how you feel… I just lost my Grandma, my nephew is in the ICU, I miscarried, lost my cousin, or even dog." Yes, someone actually told us they know how we feel, they just had to "put their dog down." Again, we thank you for wanting to try and comfort us, and we do really appreciate it. But we don't need you to relate. I have personally lost my beloved Grandmother, miscarried two times (one late at 19 weeks), and lost our dog this year. I can tell you that none of these sad and terrible events even came CLOSE to loosing my 15 year old daughter. Not even in the same realm of hurt, sadness and despair. I can tell you that I *thought* I knew was grief was when I miscarried, and I sure felt it, not saying I didn't, but it is much different when it is your 15 year old. Please, again, we love you, but we don't need you to relate with us, just comfort us.
"HAVE YOU CONSIDERED GREIF COUNSELING" – Or some version of suggesting grief counseling. Thank you. This is what I am thinking you really want to say… "I can't stand to see someone so sad. Please get help so I can stop seeing or hearing how sad you are. It makes me uncomfortable" When you post a tirade about your Mother in Law do I suggest anger management counseling? Or when you post about how much your kids are bugging you, would it be appropriate to suggest family counseling or maybe you need medication? Probably overstepping a little by doing that. I am not sure why then, when you lose a child it is ok to constantly have people suggest counseling. Even the experts agree that you should wait and go after it has been 6 months to even 2 years after the loss. I know that it is coming from a loving place, and that people are worried about you, and that yes, at some point you may need grief counseling, but a few days/weeks after my daughter passed I don't need to be told to go to counseling repeatedly. My AMAZING, AWESOME, SWEET, KIND, WONDERFUL daughter just FU*&ING DIED, yes I am probably going to still be sad!! Sorry, it makes you uncomfortable, just scroll past. Thank you.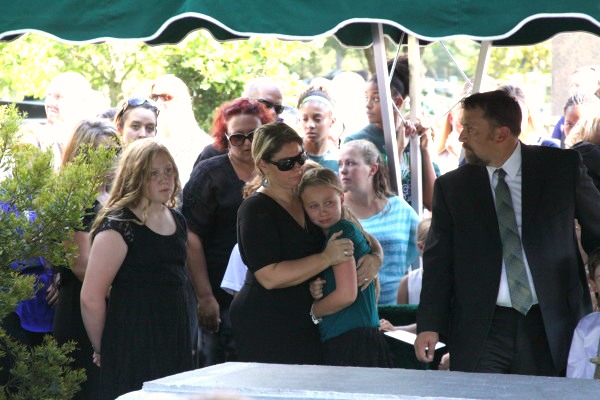 Paige, Me, Avery and Paul 
I hope that you can see what I am trying to tell you. There is basically NOTHING you can say that is the wrong thing to say. It has to be so far out of line that you are almost trying to be offensive, for it to be inappropriate. Saying nothing at all, might just be the worst.
Point is, say something. Less is more. A simple "I am so sorry" is perfect.
People who have lost a loved one need you. They need your support. They WANT to cry and talk about who they lost. They cry all day anyway, who cares if you make them cry again, they are probably just glad you said something and are touched that you did.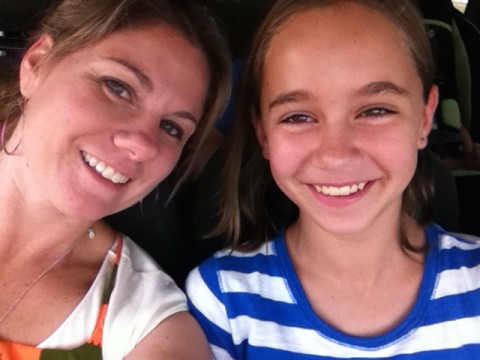 Me and Emma 
You can read more about Emma by clicking the links below.