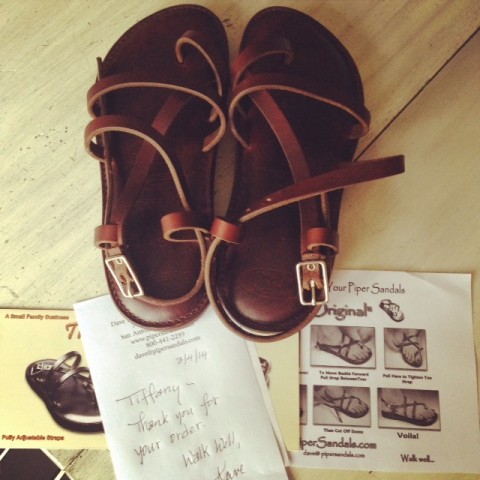 This is a little bit of a person post, well actually completely personal… A long time ago I found Piper sandals at an art show. They were made by a family in San Antonio TX. They were super expensive, but I completely fell in love with them. I walked away but thought about them the rest of the day. I ended up going back the next day and buying a pair. They were MY FAVORITE sandals I had ever had. I wore them 10 months out of the year, every day, to church and even work.
"Our Hand made leather sandals feature a one piece fully adjustable strap witch gives every foot a perfect fit.WE REPLACE PIPER SANDAL STRAPS FREE EVEN IF A DOG EATS THEM.
The tools we use are from the industrial revolution era of America.  They are slow and correct and do not fit the modern demand for fast and almost right.  Using a few old machines, a couople of new ones and many old hand tools, our products are made the old world way…One at a time.  A little over 45,000 pairs of sandals have been made through these thirty-seven years."
For years every picture of me, I have these sandals on. Then we moved. Somewhere in the move (I wore tennis shoes because of the boxes we were carrying) one of my sandals was lost
We looked everywhere. My husband even went through a dumpster for me. I have been heart broken for 6 months. So last fall I started saving up my money to buy another pair. Every time we went to Chik Fil A with the kids, I didn't buy anything and when I came home I dropped $5 in a box in my closet. Last week I had enough to get my sandals so I ordered them and they came in the mail yesterday! I am breaking them in today! Now, they are not for everyone. Lots of people don't like the style, but I love them. They are the most comfortable shoe I own!
I will be eating at Chick Fil A today in my new sandals!!
Ok and I really also just love the handwritten note you get with them as well.
* This is NOT a sponsored post. I didn't get a pair free or even a discount. Piper sandals has no idea who or what MyLitter is, and I am pretty sure they don't care
This is just a personal post from me telling you about one of my favorite things!