:: This was a post from LAST year, but the tips are helpful anytime! ::
Our superbowl night was a lot of fun! No matter who we have over, family, friends or just us, we always have a lot of food. I love to cook and this gives me an excuse to make a lot of the fun and fattening dishes I have wanted to make for awhile.
As a blogger, I have gotten in the habit of taking pictures of everything before we eat it…. Didn't happen this time! The only pictures I have are of the mess as I was cleaning up!
I have to tell you a story, but let's keep it between us.
We had a taco bar for dinner, which included taco shredded chicken and taco seasoned ground beef. I let the ground beef unthaw and cooked 3 pounds of it at the last minute and was going to add it to my warming tray with the chicken and some taquitos. I set the pan on the kitchen island and walked into the other room to get all the paper goods. The baby and I were the only ones home and she was asleep, so when I heard some noise in the kitchen I was a little scared.
I went to the kitchen to check it out, walking quietly and slowly to take a look.  I was SHOCKED, completely SHOCKED to see my 75 lb. Labradoodle dog, STANDING on my kitchen island EATING the ground beef! I screamed at him, "GET DOWN!!" The funny thing is that I don't think he knew I was home and I scared him just as bad as he had scared me! He jumped and knocked the rest of the pan on the floor and he bolted outside. I followed him screaming at him, as he ran!
We had company coming in 20 minutes and I had only a little bit of ground beef unthawed, the rest was frozen in 2 pound rolls. There was not enough chicken by itself and I really needed that meat. I cleaned up the mess, tossed what he didn't eat from the pan ( I was not about to let him have it) and quickly cooked up the rest. Somehow we managed to feed the 20 people here with the chicken and a little beef, no one went hungry, thankfully!
What is so crazy is that my dog NEVER is even allowed in the kitchen. He wont even eat food that has fallen on the floor, he is so picky. I have no idea what got into his head to do something crazy like that! But the image of that big dog on my kitchen island will stick with me for a LONG time! I have to laugh now, no matter how mad I was because startling him and scaring him was pretty funny!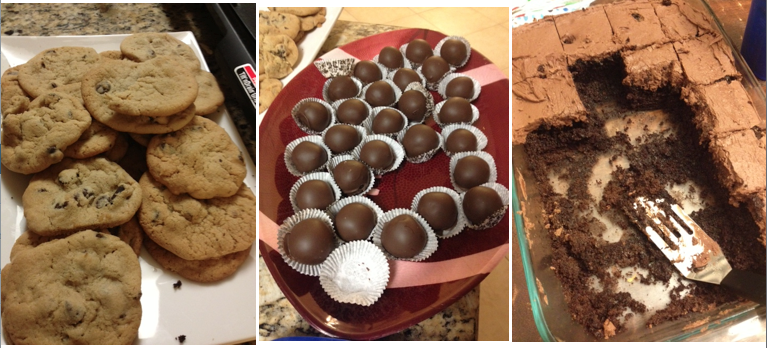 For dinner we did a big taco bar with flour tortillas and corn hard shell tacos. We had chicken and beef, with all the toppings you can imagine. I had a huge bowl of fruit and a few sides. There was hot artichoke dip, homemade guacamole, and our friends brought over a big croc pot of Queso.
For dessert we had Nieman Marcus $250 cookies, cake pop truffles, and Hershey's chocolate cake. My truffles turned out really nice this time and I think I am getting the hang of dipping them so they look good and not a messed up blob of chocolate. One thing that I used which has been worth every penny is my warming tray. It has 3 compartments and is awesome for company and big dinners. I use mine about 5 times a year and every time I am so glad I have it!
I hope you had as much fun as we did, and ate some good food with family or friends!