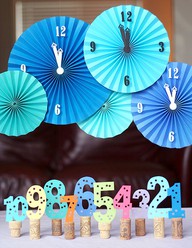 Photo Credit
I  LOVE New Years! We have so much fun with the kids, eating food and watching movies. The only sad part is at our old house we could do fireworks but we can't in our new neighborhood. 🙁 The bright side is that I don't have to worry about anyone getting burned or hurt!
Here are some ideas to make New Years fun and some cheap/freebies to do with the kids!
This is my favorite idea I have seen in a while, do a Family Interview! Each year have everyone answer questions and keep them all in one place to look over each year!
1. START A TRADITION:
I am really excited to share with you all a tradition that we are doing as a family! Each New Years Eve we are sitting down together as a family and filling out a "Year in Review" sheet. You can download mine for FREE HERE.
This is what we are doing: Having some fun snacks and drinks, handing out a copy of the "Review" to each member of the family, then filling them out together and reading them out loud! I have all the little kids write their own if they can, I love to see their handwriting and how it changes over the years. As we do this EVERY New Years, the very same sheets it is fun to see the changes! They are such a memory to keep and look back on each year! Get your FREE sheets HERE!
2. Make a FUN Photo booth! 
Go HERE to see directions and find some FREE printables to make props for your photo booth. We have taken rolls of wrapping paper and made a backdrop, then had the kids in front of it doing funny stuff and took their pictures. THEY LOVED IT!!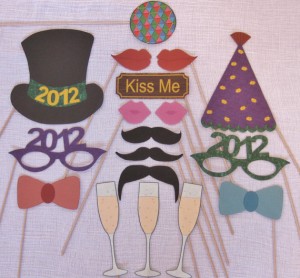 OR if you want to buy some printables from a cute Etsy site you can do that HERE for only $3.95. They will be emailed to you!
3. Fill Out a NEW 2012 Calendar! 
Here is another FREE printable! You can get this DARLING 2012 calendar for free and assemble it watching movies and eating snacks! Thanks Skip To My Lou! 
 4. Free Printable's
I really love anything free I can print and use to make some cute and fun crafts for the kids. I am printing these hats and having the girls assemble them for New Years Eve! You can go HERE to get the hat printables.
If you are looking for entire sets of FREE printables there are quite a few out there. I looked on Etsy, Pinterest and just Googled "free printable New Years Collection" to find some really cute ones!
From Tom Kat Studio you can get this black and white set HERE.
Get a GORGEOUS gold printable set from Anna and Blue HERE. This set was featured in Parents magazine.
Catch my Party has a BUNCH of cute printables HERE you can grab!
5. Drink Recipes! 
Virgin Strawberry Daquri
Ingredients
1 (14.5-ounce) can pineapple chunks in juice
1 (12-ounce) bag frozen strawberries
2 tablespoons superfine sugar
2 medium limes, juiced
Fresh strawberries, optional, for garnish
Directions
In a blender, combine pineapple, frozen strawberries, sugar, and lime juice and puree until smooth. Pour into glasses, garnish with fresh strawberries, if desired, and serve immediately.
Go HERE to see more!
6. Countdown Box!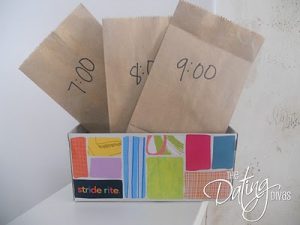 Photo Credit
The Dating Diva's has the CUTEST idea ever! It is called a Count Down Box. The idea behind this box is simple…each hour starting at 8 P.M. the kids get to open one bag! Inside each bag is something different to celebrate New Year's Eve! Go HERE to see their post.
What do you do with the kids for New Years?!