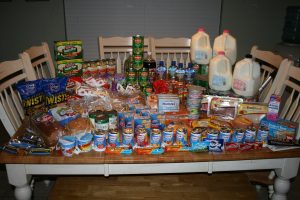 How fun, your mega event pictures are starting to show up in my inbox! This is Julie S. haul today!
My bill BEFORE Kroger card/coupons/manager specials/Rx credits was $200.38. I Paid $22.74!
I got:
3 Oscar Meyer carving boards w/ $1.00 coupon
10 cream cheese- some w/ $.75 and some w/ $1
8 kraft singles- 2 $1 off/ the rest $.75
13 yoplaits w. 2 $.40/6 and one free (got in the mail from yoplait) plus $1.25 catalina for next time
4 Propel w/ kroger $1.00 off catalina
4 Silk 3packs of choc. milk on manager's special w/ $1.00 off coupon
24 cans del monte corn
7 cans del monte beans
2 two liters soda
2 loaves Sara Lee bread
4 Pepperidge farm thins w/ $.50 off coupons (Made them $.99!)
4 ro-tell w/ buy 3 get 1 free coupon
12 hunts tomatoes w/ $.40 off 3 and one $1.00/3 from all you
2 nestle cookie dough w/ $1/2 coupon
3 Reese's fast break w/ the "buy reeses, get hershey's free" coupon
4 boxes Orville Red's *no movie passes on them:(  but they had $.55 off blinkies which was better than my $1.00/2 coupons
mission tortillas 10 count- 10 for $10
kroger honey whole wheat pretzels (yummy) were also 10 for $10 and I had a $.50 off coupon for those
a few manager specials on the kroger yogurts, bologna, gum, etc.
Then I had to get 4 gallons of milk (that'll last 3-4 days) @$1.99 each… is it going back up!?!?
Also had to buy a few things for son's scout campout tomorrow night and ziplocs, benadryl, and Capri suns
I think a few ecoupons snuck in there too… and I got 9 mega event $5.00 offs!  The whole store was watching!  It was pretty fun!