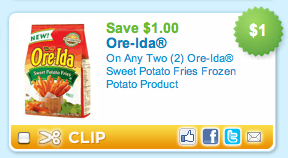 Just want to give you guys a heads up, there is going to be a Mega Event this week at Krogers. This Ore-Ida coupon showed up today and you will want to print it for the deal! Thanks Coupon Katrina.
Ore-Ida Potatoes (19-32 oz) – $2.29 (wyb 10 participating items)
Buy 2, Use $1.00/2 Ore-Ida Sweet Potato Fries Frozen Potato Product printable
Total: $1.79 each
** Some of you that have grocery ads that change on the weekend are already in the middle of your mega event, so this deal is good for you now. Here in the SW region our mega event starts Wednesday!