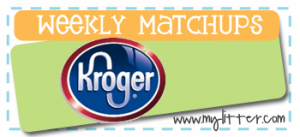 ** O.K… after the past 2 weeks of Mega Events, there is not much to get excited about this week. I think Kroger needs a break!
Make sure to play Daytona 500, play to win TONS of prizes and FREE items!
My Kroger will double any coupon up to $.50 and triple anything up to $.39. They will also do the first 3 of any like coupon, although in their coupon policy for my area it says only 1.
If you are new to couponing, the SS and RP stand for Smart Source and Red Plum, that refers to the Sunday coupon insert the coupon can be found in. Also that date next to it lets you know what week they came out in.
** A few things to do first… go HERE and load your Kroger card with NEW Cellfire coupons! Then, go HERE and load your card with Kroger ecoupons. Also, there are P&G ecoupons HERE.