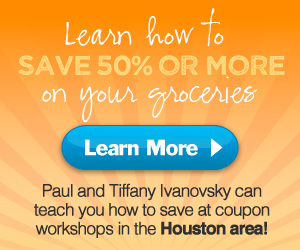 Learn how to "Extreme Coupon" there will be a free class this TUESDAY in Katy TX at both 4pm and 7pm. You can register HERE.
Cinco Ranch Golf Club
4:00pm and 7:00pm
23030 Cinco Ranch Blvd
Katy TX  77450
Topics discussed in the workshop include the following areas:
Strategic Grocery Shopping
Learn how to avoid common marketing traps at the grocery store, and shop smarter!
Realistic Couponing
See exactly how coupons work, how you can use them to save at least 50% on your groceries, understand your stores' policies, and keep all those awesomecoupons organized!