Grocery prices have been on the rise for more than 12 months straight now and many American families are starting to feel the strain on their budgets. Sick of getting up to the register only to be surprised with a $200 or $300 total? I've been there!
Beginning in May of 2012, I will be partnering with Savings.com, to offer grocery savings workshops that will offer hope for all budgets, large or small. During these Grocery Saving and Couponing Workshops, I will be teaching you how to cut your grocery budget by 50% of more. For most families, these will mean a savings or $100 per week, or more!
I am available to teach Couponing workshops in the Houston area. I love to also do "home classes" which are more laid back, and we have the time to answer as many questions as you have. We can also tailor it to what you need to learn about.
Email me if you would like to schedule a workshop for your church, women's group, work, MOPS or any other group of people wanting to learn how to save money!  You can reach me at mylitter@mac.com.com
Classes include workbook, door prizes, handouts from current sponsors and a few classes include dinner! Discounts for groups!
Current Classes: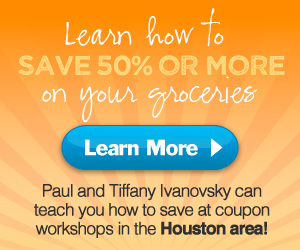 Upcoming Classes: 
Current  FREE Coupon 101 Classes:
Wednesdays,  September 11th , 25th  and October 23rd and 16th  from 5:30pm -7:30 pm
Scenic Woods Regional Library
10677 Homestead Rd
Houston, Texas 77016
832-393-2030
Thursday October 24th 11:00am – 12:00am
Ring Neighborhood Library
Address: 8835 Long Point Rd, Houston, TX 77055
Phone:(832) 393-2000
Thursday, October 24, 2013 from 5:30pm -7:30pm.
McCrane-Kashmere Gardens Neighborhood Library
5411 Pardee St.
Houston, Texas 77026
832-393-2450
Saturday, October 26, 2013 12pm-2pm
Henington-Alief Regional Library
7979 South Kirkwood
Houston, Texas 77072
832-393-1820
Following the workshop, attendees will leave with a better understanding of how to shop with coupons using strategic couponing and menu planning techniques and achieve savings of 50% or more!
Topics discussed in the workshop include the following areas:
Strategic Grocery Shopping
Learn how to avoid common marketing traps at the grocery store, and shop smarter!
Realistic Couponing
See exactly how coupons work, how you can use them to save at least 50% on your groceries, understand your stores' policies, and keep all those awesomecoupons organized!
Meal Planning Made Simple

Get practical help with how to plan out your menu to save the most money while providing healthy meals for your family!
You will receive a workbook to take lots of valuable notes during the workshop. So come prepared to learn, discuss and connect with others who are excited about saving money too!