I've partnered with Acorn Influence to bring you this post.  All opinions are my own.
Some of my sweetest childhood memories happened in the kitchen making treats with mom.  Most of the time we'd be whipping up goodies for a holiday party – but sometimes we'd make something special "just because".  That's why I like to get my own kids involved in cooking – it gives us a chance to just be together, talk and make our own little memories.
Recently we had a chance to create a fun recipe of our own with the help of Big G cereals.  In preparation for Dia de los Ninos, we decided to take one of the kids' favorite cereals (Cocoa Puffs!) and add a twist to our classic cheesecake cups.   The result was DELICIOUS!  While there's nothing fancy about this recipe – it's a total kid pleaser 🙂
We picked up a giant family size box at Walmart, which was enough to cover this recipe with tons to spare (although I'm sure in this house it won't last long…).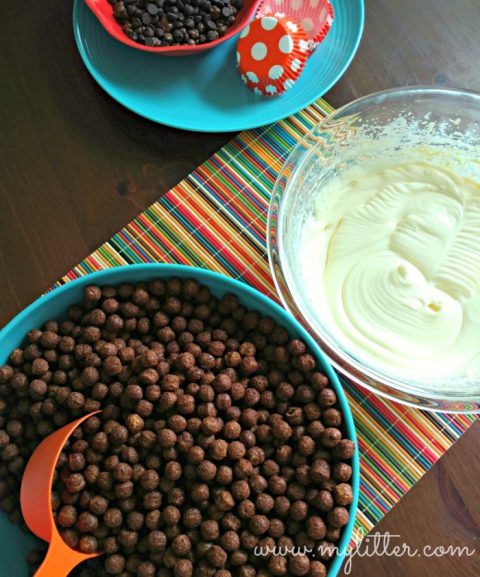 Having decided to use the Cocoa Puffs as a crust  – you just need about 2 1/2 cups for this recipe – we poured them in a zipper bag and rolled a heavy glass over them until they were just crumbs.  Then I stirred in a little melted butter and using our fingertips, we pressed the crust into the bottom of the muffin cups.
After baking for a few minutes  – I spooned cheesecake filling (the super-easy kind you make from a box) into the cups and refrigerated for an hour.
This gave us just enough time to tidy up our mess and wash the dishes – my mom always taught me to clean up as you go!  (Plus that way you don't get stuck doing it all by yourself once everyone eats and runs off)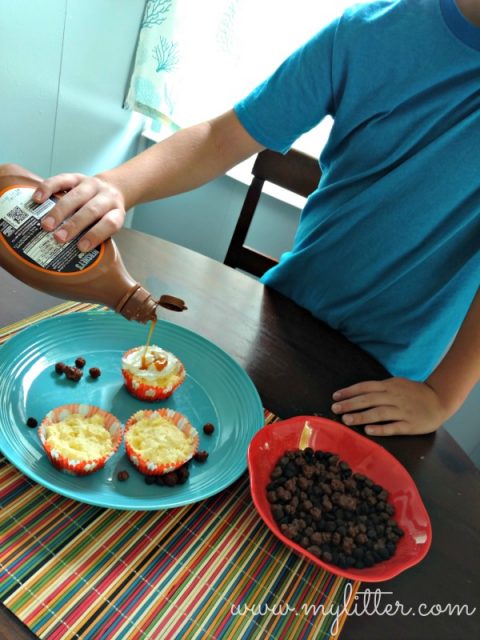 After the cheesecake had set up nice and firmly, the kids and I sat at the table with toppings like whipped cream, caramel sauce, chocolate chips, and candies so they could customize their own.
Coco Puff Cheesecake Minis
Ingredients
2½ Cups of Cocoa Puffs
3 Tablespoons Margarine or Butter, Melted
1 11.1 oz box of easy cheesecake filling mix
1½ Cups Cold Milk
Whipped Cream, Chocolate chips, Candy Toppings (optional)
Instructions
Preheat the oven to 350
Place cupcake liners into a muffin tin
Place Cocoa Puffs into a zippered bag and using a rolling pin or a glass, crush the cereal until you have fine crumbs
Stir together in a bowl with melted butter or margarine
Press the mixture into the bottom of the cupcake liners, about a tbsp per cup.
Bake at 350 for 5-7 minutes.
Remove from oven and let cool
While cooling, prepare no bake cheesecake filling per box instructions
Spoon cheesecake mixture into each cup
Refrigerate for 1 hour, or freeze.
Top with sauce, whipped cream, chocolate chips, candies, if desired.
*If you'd like to make a special treat for your kids – check out these Dia de los Ninos Recipe ideas.  For even more fun recipes using General Mills cereals, check out the Dia de los Ninos Pinterest Board!