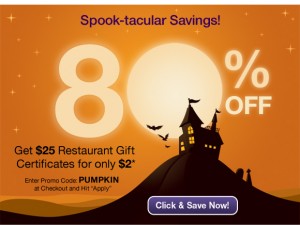 If you are planning on eating out this weekend, make sure to check and see if you can save some BIG money by using Restaurants.com.
Today, you can get 15% cash back from Ebates, making it only $1.70 after you get your check from Ebates. In order to get the cash back you have to:
Go HERE and sign up, or go HERE and login to Ebates
Type " Restaurants.com" in the search bar at the top
Click the large orange "shop now" button and you are on your way to the Restaurants.com site. Then follow the directions below!
If you want to go directly to Restruants.com, this is what you do:
Click here to find a restaurant in your area.
After you have picked your restaurant and choose the $25 gift certificate amount and then click add to cart.
Enter the promo code PUMPKIN into the "Promo Code" box in the shopping cart; your 80% discount will then be applied to your purchase. Your final price will be $2!
When you complete the transaction for your gift certificate, you will receive a confirmation page and an email that will allow you to customize, print, and/or email the certificate to someone.
They have added some new restaurants to their list! Shelly B. let me know of a few really good ones on my area! I am pretty excited about these as I LOVE BBQ! Dickies BBQ Magnolia and Conroe and McKenzies Burgers/BBQ in Conroe. Check them out!
** Also a quick note to let you know that there is a Grand Opening for CorkScrew BBQ on November 5th here in The Woodlands area. They have AMAZING BBQ, you can see more info HERE.