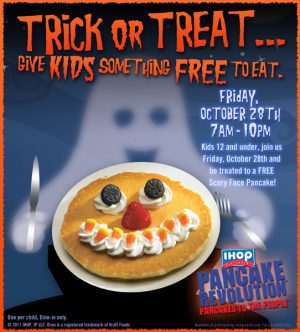 This Friday ( TOMORROW) Kids 12 and under eat FREE at IHOP! They get a "scary face pancake"! It looks more like dessert to me, but if it is a free meal we are there!
Celebrate IHOP's "No Tricks – Just Treats" all October long! Sign up below to receive a wake-up call from Count Spatula – IHOP's Scary Face Pancake – reminding you to bring your 12-and-under kids to IHOP, Friday, October 28 from 7 a.m. – 10 p.m., for our free Count Spatula Scary Face Pancake Giveaway.* Plus, enjoy Pumpkin Pancakes and Trick or Treat All-You-Can-Eat Buttermilk Pancakes for a limited time at participating locations beginning October 3!
You can find a location near you HEREand more information!
Thanks Amber D.!