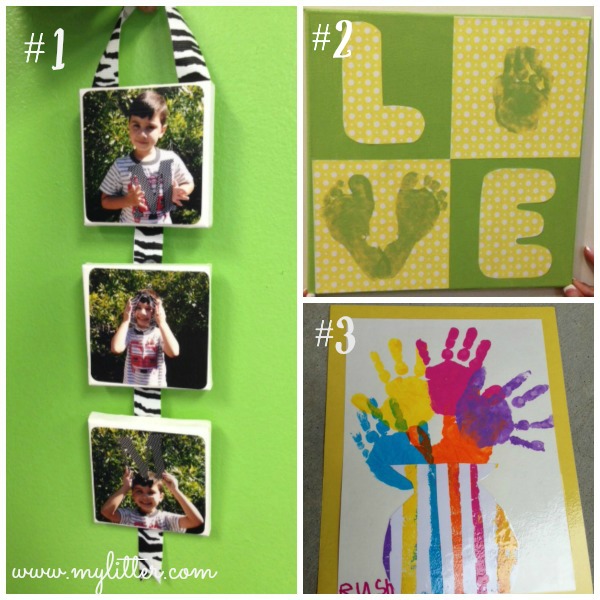 This morning was muffins for Mom's at the preschool. This is the day that the kids give their Mom's their Mother's Day presents that they made. The teachers helped them do some awesome crafts this year and they were beautiful!! Here are 3 that you can do quickly if you are looking for something for Grandma's or if you need something for a Sunday School class…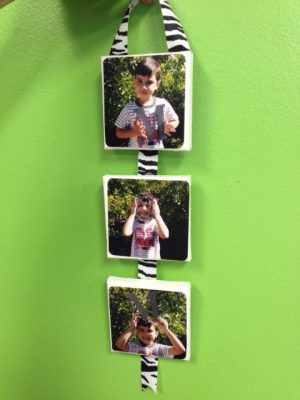 #1 – Ms Cynthia – At Hobby Lobby you can get 6 mini canvas for $4.99 ( make sure to use a coupon to get them cheaper). Also pick up 2 large letters, a "M" and "O" take a picture of the kids being cure and funny with each letter (2 of the "M's") Then print them off on the computer a little smaller than the face of the canvas.
You can prep the canvas squares by painting them or even lining the sides with scrap book paper, you can also just leave them white. Using Modge Podge, glue the pictures on the canvas. You can do all the same child, or mix up kids from the same family. Make sure to give the top a good coat of Modge Podge as well.
Ms Cynthia loves zebras, so they used a zebra ribbon hot glued across the back with a loop at the top to hold them together and create a way to hang them! VERY CUTE. Total Cost: $3 – $3.50 each.
* You could even make these bigger and have you child hold the letters for their name!
#2 Ms Becca – Using a 12×12 canvas from Hobby Lobby ($7.99 for 4 in a pack, make sure to use a coupon to get them cheaper) paint the canvas any color that you want with acrylic paint. The paint is only about $.99, sometimes cheaper. Cut 2 6×6 inch squares of scrap paper that matches the paint color. One one square paint the child's hand and make a hand print. On the other square, paint the child's feet and stamp them in the shape of a heart.
With more scrap book paper cut out the letters "L" and "E". When the paint is dry on the canvas glue the 6×6 squares and the letters on the canvas with modge podge spelling the word "LOVE" Total cost: $3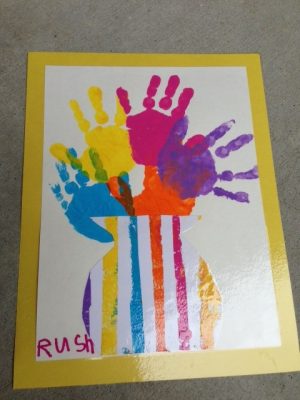 #3 Ms Beckey – These kids were a little older and they did all of it on their own really. Ms Beckey painted their hands and helped position them on white paper as if they were flowers. Next she make a rough template in pencil of a flower vase. The kids sponge painted the stripes on the vase using strips of paper laid over the vase, sponge painted over them and then pulled them off. They then cut the vase out themselves and glued it on under the flowers.
They used a larger piece of colored construction paper as a frame behind the white sheet. Ms. Beckey laminated it for them after they wrote their names! I love this! Total cost: $1
If you want to order online: