I made dessert last night and it was such an Easy Pumpkin Roll Recipe, I wanted to share it with you! I have made this maybe 10 times since I have been married and each time it has turned out perfectly.
I have heard friends mention that they are scared to make them and I wanted to show you how easy it was, and how pretty they are when they are done. Not to mention that they taste AMAZING!
First, make the cake according to directions. Bake for the correct time and make sure to not let it get too done. Mine was a little on the brown side. But didn't seem to affect the taste at all.
* One tip is that you HAVE to use a jelly roll pan. I just don't think you will get the same results from a 9×13 or something with high sides. It is a thin cake, and the jelly roll pan is perfect. This is the one I have and I love it! I also use it for cookies and a ton of other things!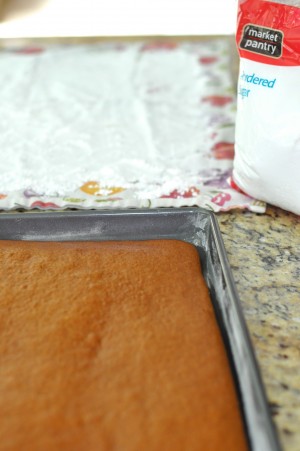 Once the pumpkin roll comes out of the oven, let it cool just a little and then you will take a thin tea towel and cover it with powdered sugar.
Tale a knife and run it around the cake and make sure it isn't sticking. Then you will take the entire pan and flip it over onto the towel. I gently shake it and peek under to make sure it is loosening up and falling out in one piece onto the tea towel.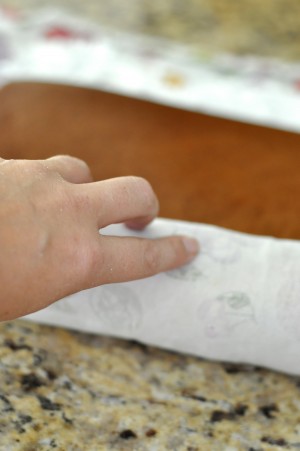 Now you are actually going to start slowly and roll up the cake. Weird, I know. But it works.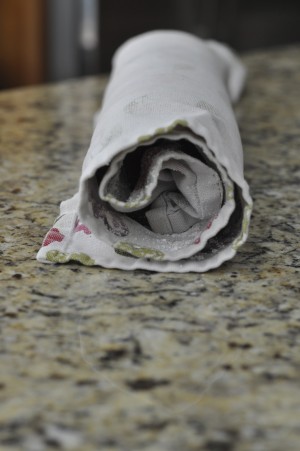 Once you have rolled it all the way up, you are going to let it cool just like this for about 1 hour and 30 minutes.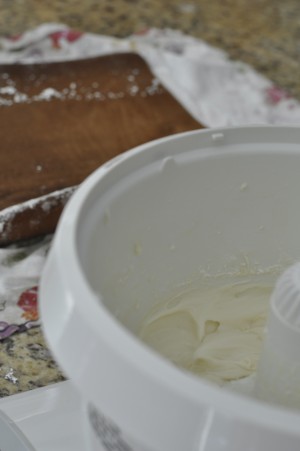 Once it is completely cool and has sat for a while, during this time make the filling. You will carefully unroll the cake.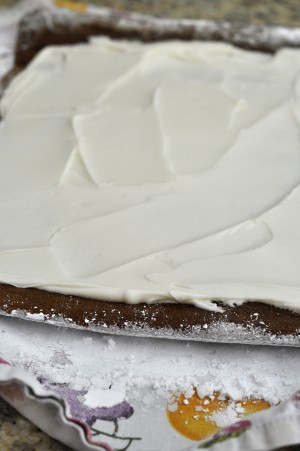 Frost the cake, staying about 1/2 inch from the edges. Some will squeeze out when you roll it back up so you can leave a little space.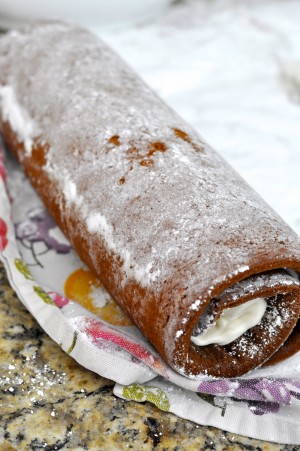 After you have frosted the layer. Roll it up again very carefully and tightly. Then you are done! Cut off the ends to make it look pretty, and keep in the fridge. You made a beautiful dessert!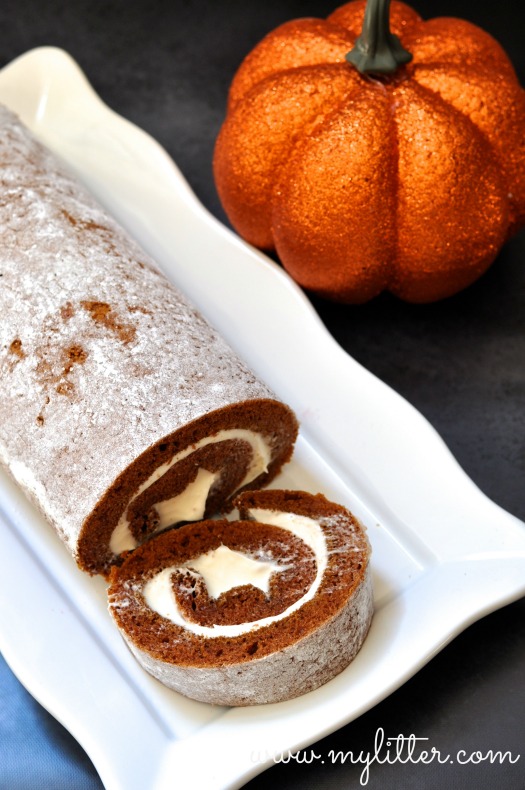 Easy Pumpkin Roll Recipe
From Libby's Pumpkin
Ingredients
FILLING
1 pkg. (8 oz.) cream cheese, at room temperature
1 cup powdered sugar, sifted
6 tablespoons butter or margarine, softened
1 teaspoon vanilla extract
Powdered sugar (optional for decoration)
Directions
FOR CAKE:
PREHEAT oven to 375° F.
Grease 15 x 10-inch jelly-roll pan; line with wax paper. Grease and flour paper.
Sprinkle a thin, cotton kitchen towel with powdered sugar.
COMBINE flour, baking powder, baking soda, cinnamon, cloves and salt in small bowl.
Beat eggs and granulated sugar in large mixer bowl until thick.
Beat in pumpkin.
Stir in flour mixture.
Spread evenly into prepared pan.
Sprinkle with nuts.
BAKE for 13 to 15 minutes or until top of cake springs back when touched. (If using a dark-colored pan, begin checking for doneness at 11 minutes.)
Immediately loosen and turn cake onto prepared towel. Carefully peel off paper.
Roll up cake and towel together, starting with narrow end. Cool on wire rack.
FOR FILLING:
BEAT cream cheese, 1 cup powdered sugar, butter and vanilla extract in small mixer bowl until smooth.
Carefully unroll cake.
Spread cream cheese mixture over cake.
Reroll cake.
Wrap in plastic wrap and refrigerate at least one hour.
Sprinkle with powdered sugar before serving, if desired.
COOKING TIP:
Be sure to put enough powdered sugar on the towel when rolling up the cake so it will not stick.
KitchenAid  Artisan Series 5-Qt. Stand Mixer with Pouring Shield – Aqua Sky
10-speed slide control ranges from a very fast whip to a very slow stir

Includes Flat Beater, Dough Hook and Wire Whip

Power Hub for Additional Attachments

Unique Mixing Action

Assembled with Pride in Greenville, Ohio.Electrical:60 Hz

Choose from all the color options to find the one that best matches your style and personality.

The power hub turns your stand mixer into a culinary center with more than 15 optional attachments available
KitchenAid Mixing Bowls, Set of 5, Aqua Sky 
Set includes a 1.5 Quart, 2.5 Quart, 3.5 Quart, 4.5 Quart and 5.5 Quart bowl

Features a non slip bases that increase stability while mixing

Pour spout on each bowl


Bowls nest together when not in use for easy of storage

Dishwasher safe f

1 year hassle free replacement and Lifetime Limited Warranty
KitchenAid Kitchen Aid Asteroid Oven Mitts, Mini, Aqua
Made of 100 percent durable, heat-resistant cotton

Textured, heart-shaped silicone grips


Set includes two (2) Kitchen Aid Asteroid Mini Mitts in aqua, 5.5″ W x 8″ L

Features a hanging loop for displaying or storing when not in use

Machine washable for easy care
Happy Baking!