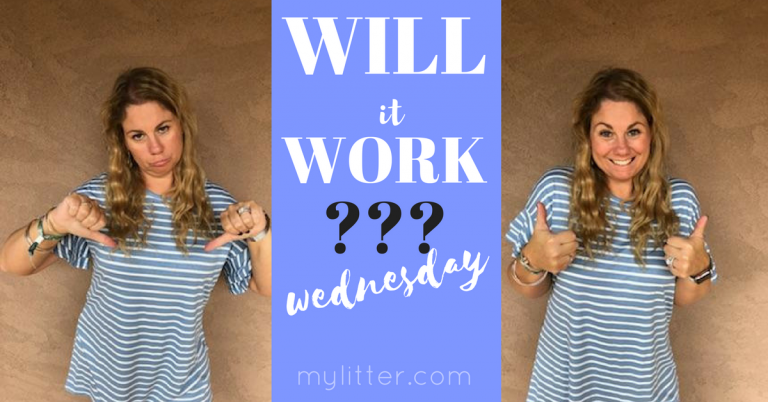 Each week on Will it Work Wednesday the MyLitter 'Try-It Team' is testing out a new product or lifehack to see if it really works!
This week Becky (and her daughter) tested out this supposedly quick and easy method of getting your grout sparkling clean!

Here's how it went….
We tried this Drill Powered Scrub Brush on tile grout that hadn't been scrubbed clean in over a year. Once we figured out what cleaning supplies worked best (I used this tough stain remover from Clorox) the orange stains literally disappeared before our eyes!
Even though it took a little while to get it going (it won't scrub off anything without some cleaning solution!) after we got that on and going it was actually quite fun.  Using the drill made it seem a little less like work, and a little more like fun!  Bee (Becky's 8 year old daughter) liked using the Drill Powered Scrub Brush to clean the bathroom tile, but more importantly, as soon as her husband got home, he was so excited to try it he cleaned the rest of the bathtub!!  And ladies… our husbands are amazing at all they do, but helping scrub the bathroom tiles?  That's a new one for me!
My four year old liked the idea so much that he (and his chalk colored hair for wacky hair day at preschool) got in on the action!  The drill was a bit much for him to handle, but he sure had fun trying!
We really liked using the Drill Powered Scrub Brush to clean the bathroom grout.  It did a great job and was really fast!
Our Verdict:
4.5 out of 5 stars- Anything that'll get my husband and kids to help clean the bathroom is a winner in my book! – the only draw back is you need to have a fully charged drill!
It was fast, and simple, and actually fun!
At under $10 I thought this was a great buy!
Check out all our Will it Work Wednesdays here!