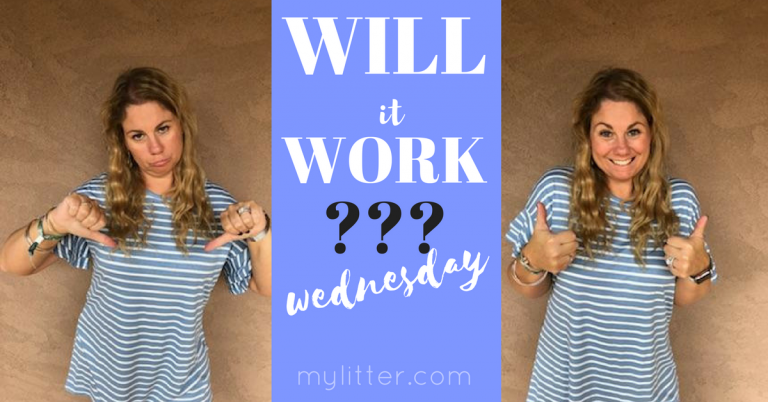 Each week on Will it Work Wednesday the MyLitter 'Try-It Team' is testing out a new product or lifehack to see if it really works!
This week Jamie showed us how she's liking the AeroPress so far – here's what she thought!

Here's how it went….
My brother is a HUGE coffee snob and recently on a visit to his house he made me a delicious cup of coffee using a giant plastic syringe.  I was curious – so he let me in on the not-so-secret AeroPress way of making coffee, and I planned to buy a gadget for myself.
Fast forward a few months and I'm finally getting around to getting one – I've watched a couple tutorials and tried it myself a few times by now.  It's pretty darn good at making a nice bold cup of coffee.  However after talking to my brother again, I learned that I need to try the inverted method to get the best results. (Google it – I promise the videos won't let you down!)
I completely messed up under pressure of the live video (see below) and temporarily lost the filter basket, and then temporarily lost my mind – but hopefully it'll help you get the gist anyway 😉
I like that it's highly portable – I can take it camping with us this Spring or anywhere we take off traveling.  My brother works 12 hour hospital shifts and he brings it pre-loaded with coffee and filter so all he needs is a cup of microwaved hot water to sit down and brew a beautiful cup of joe.
The Aeropress is also super affordable.  For around $30 you will get the whole kit and kaboodle and a year supply of filters.  Not bad at all!
Other good things about the Aeropress:
Low temp and short brew time mean a less acidic cup of coffee
Makes American style or Espresso Shots
Uses total immersion and gentle pressure to give full flavor
Our Verdict:
4 out of 5 stars
Aside from some learning curve, it's a brilliant gadget that does what it's supposed to.
Definitely worth the price.
Check out all our Will it Work Wednesdays here!