There are a lot of things going on this week in Houston and communities around the country! Many or most of them are free. This is a great time to take advantage of getting out and doing something in your community without a lot of added expense.
Pack a cooler with drinks (Kroger has Gatorade for $.54 each!) food, and goodies and spend the day listening to music and watch fireworks at night!
Find a local parade and ride your bikes to see the events. It will be hot, but you can cool off in your pool or a local swimming pool. In The Woodlands on July 4th, all the local pools are free and you have as many as 15 to choose from!
We traditionally do the same thing every 4th, but try changing it up a little bit by checking out all the things Houston has to offer below!
::Cynthia Woods Mitchell Pavilion The Woodlands:: FREE 
WEDNESDAY July 3rd – STARTING AT 6:30 P.M.:
Meet Uncle Sam and have your picture taken with Puffy Pine Cone!
Listen to Betsy Ross, Paul Revere, Martha and George Washington sing patriotic music!
See a living Statue of Liberty!
FREE American flags and patriotic pinwheels, while supplies last!
Radio Disney Road Crew on hand with games, dancing and prizes!
Lawn chairs are FREE! Picnics are welcome(no outside beverages).
::Red Hot and Blue Festival:: The Woodlands FREE 
July 4th The Festival is FREE and open to the public. The Festival will feature live music, face painting, strolling performers, games, hot dog and watermelon eating contests, vendor booths, concessions, fireworks and much more!
The Fireworks Extravaganza will begin at dusk, weather permitting, and will be simulcast on Sunny 99.1. Click here for more information.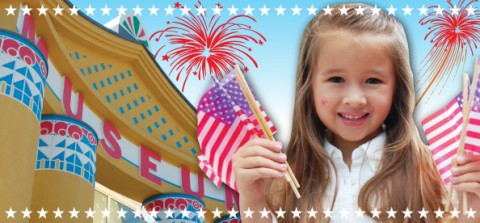 Heroes are made in America!  The Children's Museum of Houston invites you to celebrate Kidpendence Day, July 4, at the Summer of Epic Adventure – where superheroes come to train.  Superhero trainees will celebrate Star Spangled Superheroes who have contributed to making America the land of the free and the home of the brave.  Boom! We're seeing stars and stripes!
WHERE: Children's Museum of Houston, 1500 Binz, Houston, TX 77004
HOURS/COST:
MUSEUM HOURS:  Mon. – Sat.:  10 a.m. – 6 p.m.; Sun:  Noon – 6 p.m.
Second Saturday of every month opens at 9 a.m. for members.
General Museum admission: $9 per person and $8 for seniors 65+ and for active duty military personnel.  Children under one and Museum Members receive free admission.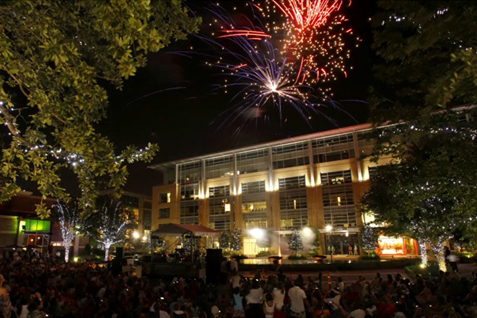 ::Citycentre :: FREE 
This year, CITYCENTRE expands its annual Independence Day celebration to highlight a weekend of family-friendly entertainment and fun. On July 4, come early to stake out your spot in the plaza or the many restaurant patios offering great views of the show.
The Grooves Band kicks off the evening at 7 PM, and the fireworks spectacular begins at 9:30 PM. Live music continues through July 7 with Commercial Art on Friday from 7-10 PM, Chris Mitchell Jazz on Saturday from 7-10 PM and Coconuts on Sunday from 5-8 PM. Additionally, a number of tenants will be offering holiday specials, ranging from food and drink deals to sales.
:: Bayou Bend :: FREE 
Celebrate Independence Day at Houston's home for American decorative arts and paintings. The annual 4th of July blowout at Bayou Bend Collection and Gardens offers up an extravaganza of Americana: performers, crafts, activities, refreshments, and more. Don't forget to sign the giant Declaration of Independence before you leave! With its unique blend of the arts and American history, Bayou Bend is the perfect place to celebrate American freedom in style.
A reading of the Declaration of Independence, followed by birthday cake, starts at about 3 p.m. on the Diana Terrace (north side) of the house.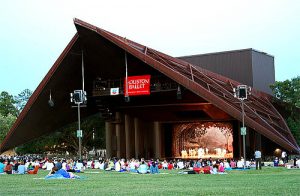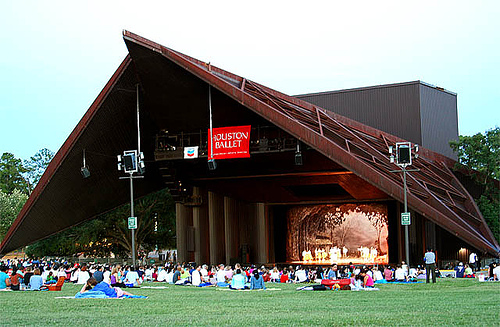 :: Miller Outdoor Theater ::  FREE 
ExxonMobil Summer Symphony Nights: A Star Spangled Salute – July 4, 2013 8:30 p.m.
Enjoy an evening with Principal Pops Conductor Michael Krajewski and the Houston Symphony listening to patriotic, toe-tapping American music.
Make sure to stay until the end for the 1812 Overture—complete with booming cannons! This celebration concludes with a magnificent display of fireworks provided by Miller Theatre Advisory Board.
This is a ticketed event for the covered seating area. Free tickets are available (4 per person over age 16 while they last) at the Miller Outdoor Theatre box office the day of the performance between the hours of 10:30am-1pm.  If tickets remain at 1pm, the box office will re-open one hour before show time to distribute the remaining tickets. As always, open seating on the hill.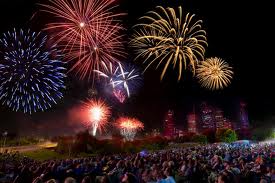 :: Freedom Over Texas :: – Thursday, July 4th 2013 – Eleanor Tinsley Park 4pm – 10pm Mayor Annise D. Parker Invites Texans to Houston's Official Fourth of July Celebration Featuring Live Music, Family Activities and a Stunning Fireworks Extravaganza. 
Houston will set the stage for an extraordinary patriotic celebration at Mayor Annise Parker's official Fourth of July event, Southwest Airlines Freedom Over Texas with Entertainment Presented by NRG. The annual event is held on Thursday, July 4, 2013 culminating with a fireworks extravaganza set to a perfectly timed bed of patriot and current musical selections. Kids under 5 are free.
::PLACES TO WATCH FIREWORKS IN HOUSTON::
Galveston Island and Kemah– Seawall Boulevard between 28th and 45th Street. Thursday July 4, 2013. 9 a.m. to 11 p.m.
Centennial Park – 2200 S Friendswood Dr. Thursday July 4, 2013 2 p.m. to 10 p.m.
Freedom Rings Fireworks show – The Stafford Centre – 10505 Cash Road Thursday July 4, 2013. 3 p.m. to 10 p.m.
Buffalo Run Park – 1122 Buffalo Run Blvd. Thursday July 4, 2013. 12 noon to 12 a.m. The 2013 BBQ cook-off and firework show will take place at Buffalo Run Park followed by a choreographed fireworks and light show across the street at Thurgood Marshall High School Stadium. The first 600 kids 12 and under will receive free prizes and giveaways.
The Woodlands – Cynthia Woods Mitchell Pavilion. 2400 Lake Robbins Dr. 6 p.m. to 12 a.m.
Pearland High School Football Stadium – 2pm to 10pm with a 20-minute pyrotechnics show
Oyster Creek Park in Sugar Land – Free 5pm to 10pm
Tomball 4th of July Parade – Highway 249 Business, north of FM 2920. Fireworks display at 9:15 p.m.
Webster – Texas Ave. Park 5pm Free snow cones, watermelon and games!
Friendswood Fourth of July Celebration "Sounds of Freedom" – FM 518 and Heritage Drive. For the fireworks, go to Clear Brook High School and take the shuttle to Centennial park to see Fireworks at 9:20 p.m
Missouri City – Festival with bands from 6pm to 9pm.
Seabrook – Kids Parade The City of Seabrook will host a 4th of July Kids Parade on Thursday, July 4, 2012 beginning at 10:00 a.m. at Meador Park, 2100 Meyer Road. Stick around after the parade for more fun and games including face painting and a moonwalk. Refreshments and hot dogs will also be available. Please bring your lawn chairs and cameras.
LaCenterra at Cinco Ranch – Our July 4th BIG Backyard Barbecue kicks off at 5:30 p.m. with a tasty blend of rock 'n' roll, Texas country, Southern rock and boogie-woogie blues served up by Houston-area party favorites Pirate Radio and, back by popular demand, Outlaw Lynn and Who's Drivin.
Towne Lake – Thursday, July 4th Music & Entertainment from 7:30 – 9:00 pm. Largest Fireworks Show in Northwest Houston at 9:00 pm. Parking available at Lone Star College