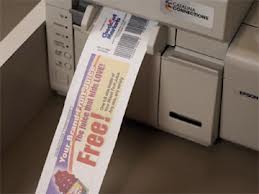 WHAT TO DO WHEN YOUR CATALINA DOES NOT PRINT…
There is nothing more frustrating than doing a deal and your Catalina does not print. When this happens there are a few things that you can do.
First before you expect it to print check and see if you can see the little light on to make sure they even have it on. You can even ask the cashier if they know if it has paper in it. This will avoid the "out of paper" or "it wasn't turned on" problem.
If a catalina doesn't print I always double check if possible, to make sure I was supposed to get one. If they don't know or are less than helpful, make a choice to either return the order completely (get your coupons back) or you can contact Catalina directly.
Catalina can be reached at 888-826-8766 and press 3.
You can also fill out the easy Catalina Form HERE
If emailing, you should expect a response within 2 to 3 business days. They can look up the transaction by receipt and clubcard number. I have found the folks at Catalina to be really helpful, last time I had a problem the store was offline and they mailed me my Catalinas.
What is a Catalina? Catalina Category Marketing (CCM) rewards purchases of promoted products with "catalinas", also known as "check-out coupons". These offer incentives good on your next shopping trip to that retailer. There is usually a 4-week window on any given program/incentive promotion.