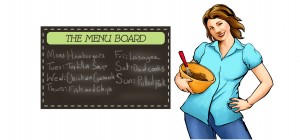 This week my menu plan is going to come from the Kroger mega event that we are having right now. I love this sale and love how much money I can save! I am getting 6 meals for under $50 during this sale and they are all some of our favorite meals as a family!
These are the main dishes, but I am adding a bagged salad to most of them as a side dish. Just FYI.
Here are some free printables if you need them:
The first thing we are going to do is see what the best prices on the protein part of our meal are  because that is where I spend the most of my food budget. * if you do NOT have the same grocery stores as me, do not worry! just grab your ads or look them up online and see who is the cheapest in your area! 
*Make sure to check out the weekly store deals and coupon match ups. You can make a printable list to make shopping easier! Kroger list HERE, Randalls list HERE, HEB list HERE.


:: THURSDAY :: – Zuppa Toscana Soup – Stove Top – This is a family FAVORITE! I started making this recipe years ago and have changed it up a bit, but it is the copy cat recipe from Olive Garden, but friends and family say mine is much better! Use any kind of sausage, smoked, chicken, etc. Serve with bread and you will totally be in love! Served the next day it is even better!
::FRIDAY:: – Broiled Tilapia – Oven – Yes it is fish, and yes my kids eat it. In fact, this recipe is so popular around here that I will make about 15 fillets and I promise you they will all get eaten tonight!  My little ones think it is chicken. I am not sure they would care if it was fish, they just always ask for more chicken! Add a side salad and you are set!
:: SATURDAY :: Chicken Tacos – Crock Pot – I have a lot of chicken, and the taco packets were  free a few weeks ago at Randalls… so we will be having tacos! Make extra shredded chicken for tomorrows dinner and even some for the pizzas on Monday night. 
:: SUNDAY :: Tortilla Soup – Crock Pot or Stove Top – I can put this in the crock pot and it will be ready when we are home from church! I also will just make extra chicken from the night before and use that in the soup. So I wont have to cook more or shred any chicken!
:: MONDAY :: English Muffin Pizzas – Oven – Since the Thomas English muffins are part of the mega event, this is a fun meal for the kids and easy for you! Just add the ingredients of pizza like cheese, chicken (leftover shredded from Saturday), meat, olives, mushrooms, sausages, pepperoni etc. You get the idea. Then place them in the oven for about 20 minutes at 350, or you can even broil them for just a few minutes. Serve with a salad. 
:: TUESDAY :: Taco Salad OR Taco In A Bag –  Stove Top – There are 2 options with this one, either the Taco Salad recipe with catalina dressing OR I also linked to my Tacos in a Bag recipe which is close to the same idea. Now you don't need to make them in a bag, if you are not going anyway, just take the idea and crumble the large bag of Doritos into a large bowl! This Taco Salad with catalina, is a recipe we have been making for a LONG time and it is a family FAVORITE! We are making it this week because the Doritos are on sale as part of the mega event, as well as cheese, and sour cream… so looks like a perfect storm!
:: PRINTABLE SHOPPING LIST ::