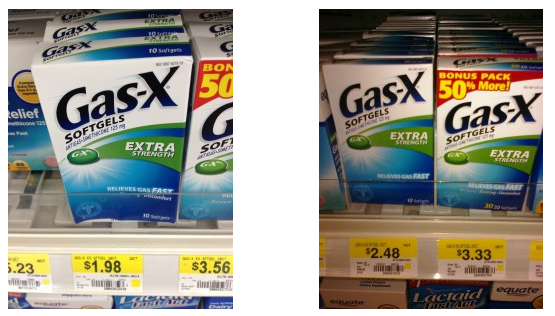 :: Has anyone tried this deal yet?? :: 
Have you guys seen this deal yet?? This is just nuts! Ok coming up this weekend in your Sunday paper you are going to be getting a $10/3 Gas X coupon in your inserts. Hopefully you get multiple papers because you are going to want this coupon…
Walmart sells Gas X for as low as $1.98, and this coupon has no restrictions. That means that you can get some serious overage on this coupon this weekend. Now, it is a regional coupon, and so I hope we get it here in TX. AND, I can imagine that all the Gas X will be gone in the stores quick, so you have to get in there fast.
Buy Gas-X $1.98-2.48
Use $10/3 Gas-X Product, (SS 10/13/13)
Total: Free + up to $4.06 OVERAGE
Thanks I Heart The Mart