Price Matching at Walmart is a killer way to save some money! Here is some info to get you started.
Price-Matching
Our goal is always to be the low price leader in every community where we operate. Our customers trust us to have every day low prices … there's no need for "special sales."
They gladly match the following types of ads:
Buy one get one free ads with a specified price. (example buy one for $2.49, get one free)
Competitors' ads that feature a specified price at a specific retailer.
Preferred shopping card advertised prices for specified items that are in a printed ad that require a competitors' shopping card for the discount to apply.
For fresh produce and meat items when the price is offered in the same unit type.
Guidelines and Limitations:
We will match any local competitor's advertised price.
We do not require the customers to have the ad with them to honor a competitor's ad.
Items purchased must be identical to the ad (size, quantity, brand, flavor, color etc.)
They DO NOT price match the following types of ads:
Items that require a separate purchase to get the ad price. (Example- Buy A to get B for $C)
Items with no actual price that require a purchase to get a free product. (Example- Buy A & B to get C for free)
Items that require a purchase to get a competitors' gift card. (Example- Buy A to get a $B gift card)
Buy one get one free ads with no actual price given.
Going out of business or closeout prices.
Percentage off. (Example- 40% off mascara)
Competitor's private label price promotions.
They do not honor:
Ads when the actual price for items cannot be determined.
Internet pricing.
Misprinted ad prices of other retailers.
Competitor prices from outside the store's local trade territory.
Basically, if you take your local grocery store ad and see a great deal on Blue Bell ice cream priced at $3 a 1/2 gallon, Walmart has it for $6 you can take your local ad and when you check out show them the price and they will override their register to give you the cheaper price.
Price matching alone can save you a ton of money at Walmart. Why price match? Because I don't want to run all over the city to different stores to get the good deals, I would rather just pick it up all in one place!
Now I have found that when you load your groceries onto the belt at Walmart you HAVE to have your ad ready, when they get to that item you must give them the competitors ad RIGHT THEN so they can change the price. If you wait until they are done ringing you up to show them the price match they will not go back and change the prices. Just a tip!
You may find it helpful to print out and carry a copy of the Walmart price match policy with you.
5 Steps to Successful Price-Matching at Walmart:
Check the other grocery stores sales ad's for great deals. Make a list of the items and prices. Check to see what coupons you have or can print to match up with these sales. Check electronics, I have saved HUGE this way at Walmart!
Take a look at the price matching policy. They will not do B1G1 free sales, but they will do 2 for $4 or 2/$4. They will also NOT do % off, like 25% off all soda.
Go shopping! Bring your other store ad's with you. Most will require that you have them. Don't cut them up, they will need to verify the dates on them. You can only use a current ad.
I always place items that I am NOT price matching on the belt first. Then I place my items that I am price matching and lay the ad on top of them so I don't forget… or get distracted by children! I inform the cashier that I am price matching and show them the ad. I saw a woman once that had placed sticky notes on her items, the cashier LOVED her! I don't have that kind of time, but it was a good idea!
Do the "Happy Dance" that you saved a bunch of money!
What am I price matching this week?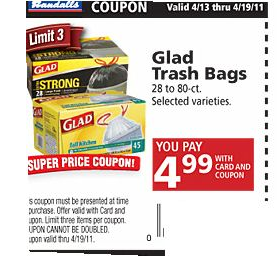 I am taking the Randalls ad with me to Walmart tonight, so I don't have to run to 2 different stores! They will "price match" this Randalls coupon for $4.99 for the Glad bags. Than I am using the $1 off printable HERE to get them for $3.99 which is an awesome price!
I like to go to as few stores as possible!