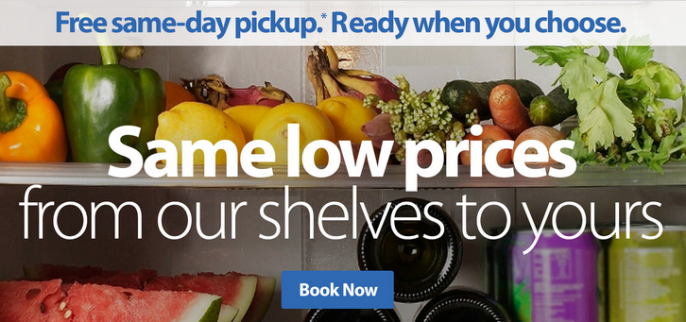 Save time and money with Walmart's online grocery shopping. Not only is Walmart the low price leader but now they are offering Grocery Delivery and Pick Up Service in Houston! Walmart has offered this service in very limited areas but we are excited to see it expand.  You can save $10 off an $50 purchase coupon code WOWFRESH. If you are not in Houston be sure to try your Zip and see if it is available for you. Please leave a comment letting us know your zipcode and whether or not Walmart Delivery is in your area.

Walmart Grocery Item Pricing Policy
We strive to offer you the lowest prices we can, no matter how you shop. So when you order from Walmart Grocery, you're guaranteed the same low prices for your items on Walmart Grocery as you would get if you shopped in the store that picks and packs them.
If an item's price changes between the time you place your order and the day your order is packed for delivery/pickup, we will charge you the lower price automatically. If you have chosen to allow substitutions for your order and substitutions are made, you will also be charged for the lower priced item.
Please note that due to differences in distribution, regional competition and other factors, prices may vary between stores, and so the prices you see online will not match all stores, only the store where your order is packed.
Walmart Grocery does not match prices from other online or physical stores, or Walmart stores other than the one where your items are picked and packed.