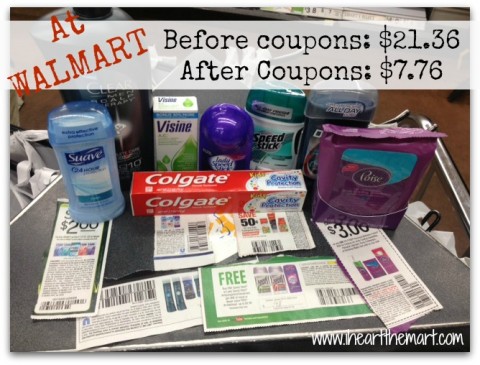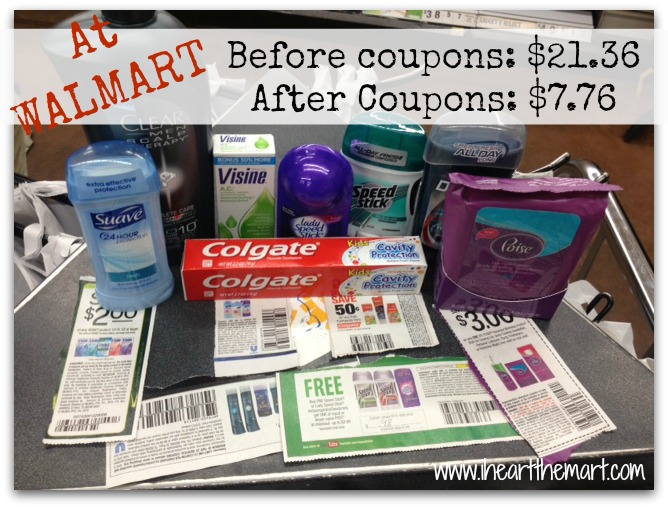 The coupons in the Sunday paper are really pretty good this week. You should have a SS and a RP insert.
What a way to start Spring Break…. I have 2 kids puking all night and one who has such bad allergies her eyes were all glued shut when she woke up. 🙁 Paul was at Walmart at 1am and did a quick shopping trip with the coupons from the Sunday  paper.
Total before coupons: $21.36
Total after coupons: $7.76!
::This is what I did::
Colgate Kids $1
Use $.50/1 Colgate 03/10/13
Total: $.50
Poise Wipes $2.97
Use $3.oo Poise 03/10/13
Total: FREE
Visine $4.48 (there is a cheaper one, but my allergies were bad so I got the allergy Visine that costs more)
Use $2.00 Visine Coupon 03/10/13
Total: $2.48
Degree Sport $2.47 
Degree Mens Hair Clear Shampoo $6.98 
Use Degree BOGO Clear Men's Scalp FREE (up to $6.99) 03/10/13
Total: $2.47
Men's Speed Stick $.98
Women's Speed Stick $.98
Use BOGO Speed Stick coupon 03/10/13
Total: $.49 each
Suave Women's Deodorant $1.50
Use $.50 Suave Coupon 03/10/13 RP ( you might get $.75 off )
Total: $1.00
::WEEKLY DEALS::