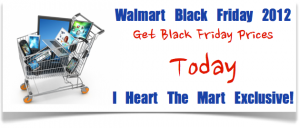 If you are a Black Friday shopper, you might want to take a peek at some interesting info over at I Heart The Mart. 
I Heart the Mart exclusive interview with the Director of Communications and Community Relations at Walmart, I asked some of the questions that my AWESOME I Heart the Mart readers had about Black Friday. I was floored at the answers so I asked them to write them down. This is EXACT text of the email I received:
For items already on layaway, will Walmart price match those items if they have now gone on sale for Black Friday?
Items that have been put on layaway then are paid off on Black Friday will be sold at Black Fridaypricing (i.e. If you place a LG Blu-ray player on layaway today and payoff the purchase on Black Friday, you will pay the $38 Black Friday price).
Can you use coupons for layaway items? 
Yes. Walmart is committed to providing our customers with the lowest prices. To back up our price leadership promise, we will match the price of any local competitor's printed ad for an identical product right at the cash register even on layaway items.More information is available at walmartstores.com/download/4752.pdf.
Are Black Friday deals online again? 
Customers can also get a jump start on shopping from the comfort of their homes with a two day online-only event on Walmart.com starting early on Thanksgiving Day and extending through Black Friday. Savings on hundreds of the hottest toys and electronics include:·       Samsung 50? Class LED 1080p 60Hz HDTV – $698

·       Ematic 7" Tablet Android 4.0 1GHz, 4GB – $49

·       Dsi XL Ultimate Bundle – $129

·       Razor A Kick Scooter, Multiple Colors – $25

Walmart.com shoppers can choose free shipping to home on eligible $45 orders with Home Free or free store pickup with Site To Store and also use Pay with Cash.
Is Walmart price-matching Black Friday ads?
Our long standing ad match guarantee will be in effect throughout the 2012 holiday season – including on Black Friday. The ad match guarantee ensures that customers get the best prices on toys and other items throughout the store. We will match the price of any local competitor's printed ad for an identical product right at the cash register. Walmart's ad match guarantee does not include online prices. -END OF QUESTIONS-
What Does This Mean?
In a single word? Domination… complete Black Friday Domination. I don't know a reason you wouldn't shop Black Friday at Walmart!
This is how you do it:
Find the items you want from the Walmart Black Friday Ad 2012 and go put them on Layaway (Walmart Layaway Policy) anytime from NOW until Wednesday before Thanksgiving.
You are NOT Allowed to price match the items right now, it will be put on Layaway at the current Walmart Price.
Go to Walmart Anytime the Black Friday Price is Available (Thursday or Friday) and Price Match to the Black Friday Ad.
You MUST pay in full on Friday to get the Black Friday Price- you must close out your Layaway contract or it will stay at the full purchase price
You can do this with other stores Black Friday Ads- Yes… REALLY
PRINT THIS POST and take it with you.
If you are Price matching other stores Black friday Ads it must be to the EXACT same item. All dates AND times apply.