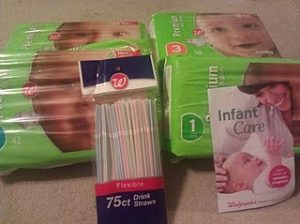 If you are needing diapers, you might want to run over to Walgreens! They have a good deal going right now if you are not brand specific.
You are going to need the Infant Care book you see in the picture, you can find it in the store.
The Walgreens diapers are buy 1 get 1 free @ 8.99. The Infant Care booklets have a $2 off Walgreens diaper coupon inside. You will only need 1 coupon, and it will take off for ALL the diapers in your transaction.
This is what your deal looks like:
Buy 2 Walgreens packs of diapers for $8.99
Use 1 Infant care coupon (takes off $4)
Total: $4.99 for 2 packs or $2.49 each!
Photo Credit, thanks to Katy Couponers!