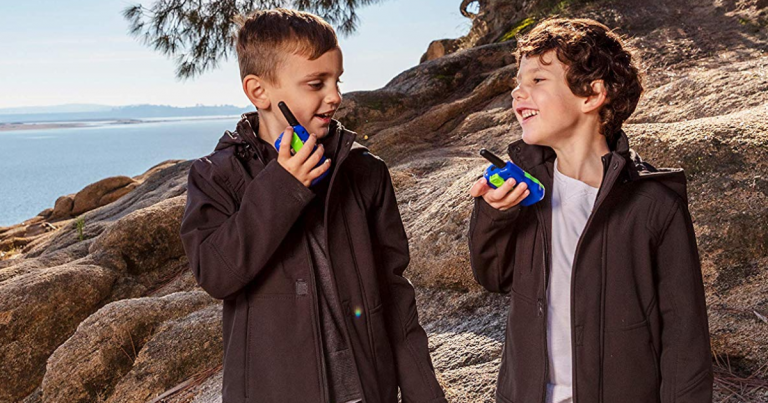 To get this great price, use promo code 40VOXBOX at checkout!
LONG RANGE WALKIE TALKIES FOR KIDS w/ OVER 2 MILES OF COVERAGE: The extreme range on these kids walkie talkie two way radios spans over 2 miles; Girls and boys walkie talkies are perfect gift ideas for kids, children, teens and adults
Vox Box puts the "walky" in "walky talky for kids"; These top rated walkie talkies feature an earbud jack and LED flashlight for adventures, day or night; Send your voice without even having to push a button; Voice activated walkie talkies are easy for kids to use with siblings and friends
Use multiple childrens walkie talkie sets to communicate as a group on the same channel or subchannel; Enjoy these cool voice toys as camping gear or when hiking, kayaking or on a cruise
This kids walkie talkie set includes smart tech that will bring pretend play to the next level; Perfect for police officer, super hero, army and wilderness "training" or backyard safaris!
Adventure awaits with your kids walkie talkie set for boys and girls; We'll provide a full refund if you're not
Shipping is FREE with your Amazon Prime membership. 
However, for a limited time, Amazon is offering Free Shipping for everyone, not just Prime members! This offer applies to items sold by Amazon only and does not apply to add-on items.


Want more out of your Prime Membership?

*Remember that Amazon prices change frequently, and without notice. Please verify price before ordering.