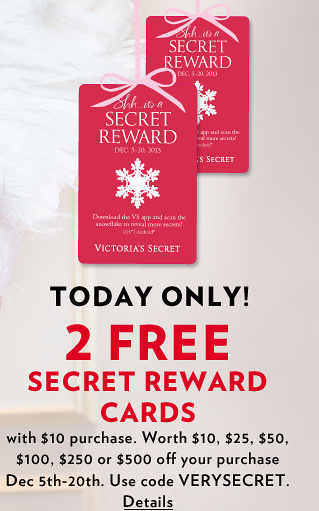 There are more deals this morning at Victoria Secret, plus they are giving out 2 rewards cards with every purchase and each card is worth $10 – $500!!! I won $50 last year! 🙂
Here is a deal where you are going to come out a little ahead after the rewards card!
This is what to do:
Go HERE to Victoria Secret
Add a Sleep Shirt to your cart
Add a Pink Mini Dog to your cart
Head on over to check out and use the following 3 coupon codes: hotpink and verysecret and fa1339037.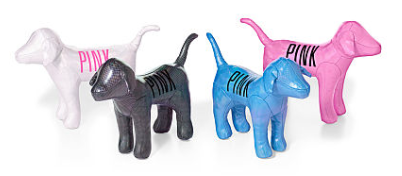 After total, you should be getting, 2FREE secret rewards cards which are worth at least $20 and pay only about $19 and $5.99 Shipping. Plus you will have the $50 fragrance set!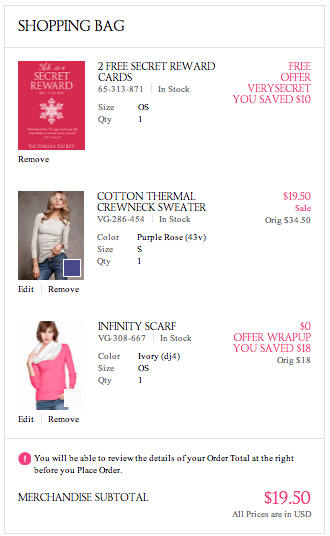 OR, you can do something like this deal I did, buy a sweater and get a scarf for free! Plus I am also getting the double rewards cards!
Remember that you can use up to 3 coupon codes at one time at Victoria Secret. Here are more coupon codes you can use:
$30 Off $150 Sitewide + Free Shipping On $50+ use code 30OFF150
Free Shipping On $50 use coupon code FREE50
Free Secret Reward Card With $10 Purchase use code verysecret
The Dreamer Flannel Pajama + Free Slippers With Purchase use coupon code sweetdtreams
Free Mini Dog With A PINK Purchase use code hotpink
Free Shipping On $100+ use code ship13
Free Scarf With Any Sweater Purchaes use code wrapup
Free Cotton Panty With Angel Card Purchase use code decangel
wait, wait… ok here is another scenario!!!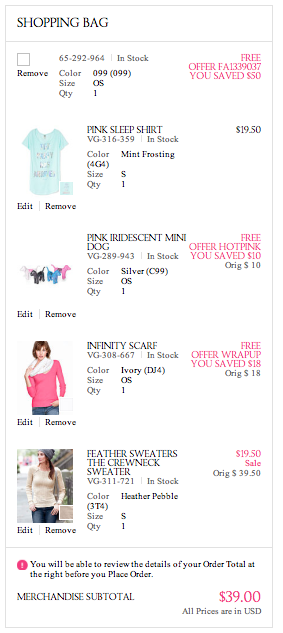 Someone stop me! LOL! Ok this time I got a free scarf, pink dog and the $50 fragrance set! Pretty much my older girls need nothing now!