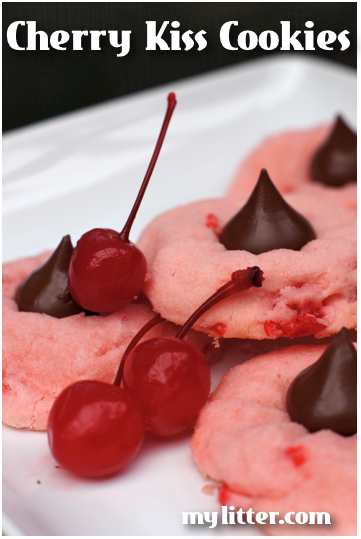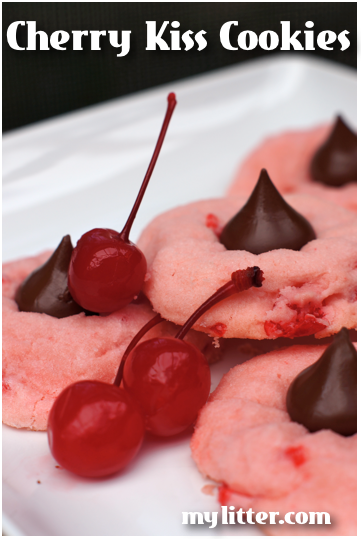 It is time to start thinking ahead to Valentines Day recipes and ideas. Consider making these Cherry Chocolate Kiss Cookies this year to really impress someone you love!
This is one I was glad I made when the kids were around! I needed them to unwrap the kisses, HOWEVER, I should have bought another jar of cherries as it was all I could do to keep them from eating them all!
The dough is SOOOOO good. I am warning you. If you have no willpower make with a friend near by!
Cherry Chocolate Kiss Cookies
Ingredients:
1 cup butter, softened
1 cup powdered sugar
1/8 teaspoon salt
2 teaspoons maraschino cherry juice
1/4 teaspoon almond extract
2 1/4 cups all-purpose flour
1/2 cup chopped maraschino cherry
48 Hershey cherry cordial chocolate kisses
granulated sugar
Directions:
1. Preheat oven to 325 degrees. In a mixing bowl beat butter for 30 seconds on med-high speed. Add powdered sugar and salt beating until combined (scrape sides of bowl). Beat in the cherry liquid and almond extract. Beat in as much flour as you can then use a spoon to mix any remaining flour and the chopped cherries.
2. Roll dough into 1 inch balls and place on ungreased cookie sheet about 2 inches apart. Using the bottom of a glass dipped in granulated sugar, flatten the balls until they are about 1/2 inch thick. Bake 14 minutes or until bottoms are light brown. Right away place a chocolate kiss into the center of each cookie then transfer to a wire rack to cool.