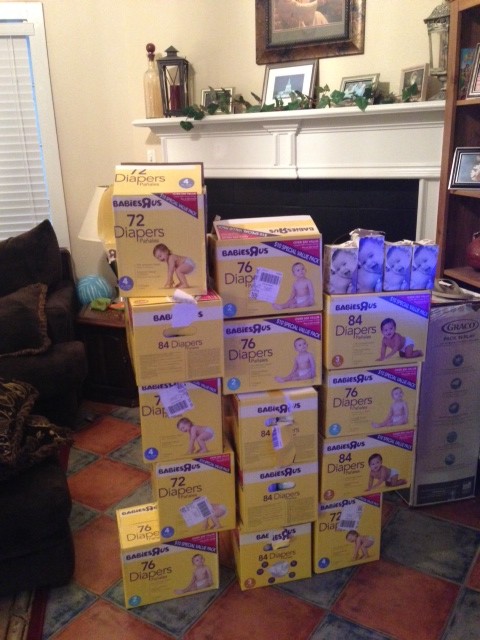 ::This is the deal…. The $10 boxes were a special purchase that TRU made. The diaper and wipe sale ended on Thursday, but if you can still find the special $10 boxes this deal is good as along as they are available! 
This is reader Heather's score that her husband grabbed for her. Total for all $64!! Plus all the free bottles!
Right now Toys R Us and Babies R Us have their brand diapers on sale for $10.  There is a coupon inside each box to for $6 off a box of diapers — making them just $4 per box after the coupon!
Buy (1) Special Value Box of Babies R Us Diapers -$10 (look for the ones in the picture below that show coupons inside)
Inside the box is a $6 off ANY Babies R Us or Toys R Us Value Box of Diapers
Buy another box, use the $6 coupon-Pay just $4+ tax (my total was $4.68)
Inside that same box is another coupon for a FREE Babies R Us Bottle ($5.99 value) so on our way home we stopped at Babies R Us and paid $0.00 for the bottle!
Call to check the availability in your store go here.