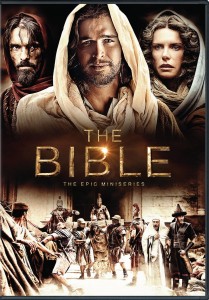 Amazon has The Bible Mini-Series for $29 right now. Normally it is priced at $59. My husband watched this for the past few nights and I really wish I had stayed up and watched it with him. He said it was really intense and "AWESOME" and that the detail was incredibly well done!
From Executive Producers Roma Downey and Mark Burnett comes The Bible — an epic 10-part miniseries retelling stories from the Scriptures for a whole new generation. Breathtaking in scope and scale, The Bible features powerful performances, exotic locales and dazzling visual effects that breathe spectacular life into the dramatic tales of faith and courage from Genesis through Revelation. This historic television event is sure to entertain and inspire the whole family.
Go HERE and get yours!
( Thanks A Frugal Chick!)