::UPDATE::
Slushies are TUESDAY!!! Pizza is TODAY! 
There is some serious TEXANS fever going on around here!
Because the Texans won last night you have some options TODAY for a freebie and 1/2 pizza! This is good the following day AFTER a Texans win.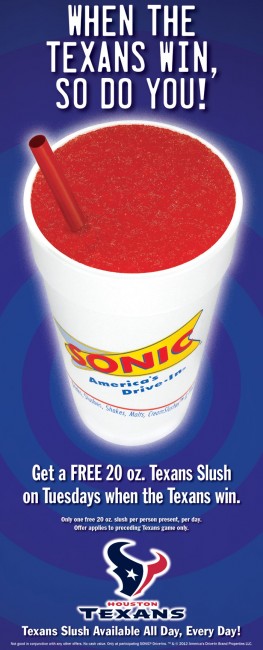 At Sonic:
Monday ALL DAY you can get a FREE Texans Slushie! This is a monster 20 oz.! Don't forget that everyday is happy hour from 2-4pm where all drinks are 1/2 price for those not wanting a free one today or happen to stop by the rest of the week.
At Papa Johns:
Today you can get 50% off ANY online order when you use coupon code 50OFF. This is probably only good in the Houston area as celebration of a Texans win.
We ordered pizza Monday night and this was the sticker info on our pizza boxes that we got. Not valid with any other offer.
To be a mobil fan:
It's the latest team news from the Texans – real-time in-game scoring updates, team transaction notices, injury notifications, player appearances and more – delivered straight to your phone!
We offer four separate clubs for gameday score updates, team news and alerts, ticket information, and special merchandise offers, respectively.
To join:
Text SCORES to 88222
Text NEWS to 88222
Text SEATS to 88222
Text OFFERS to 88222
If you know of any other offers because the Texans won, make sure to post them in the comments!