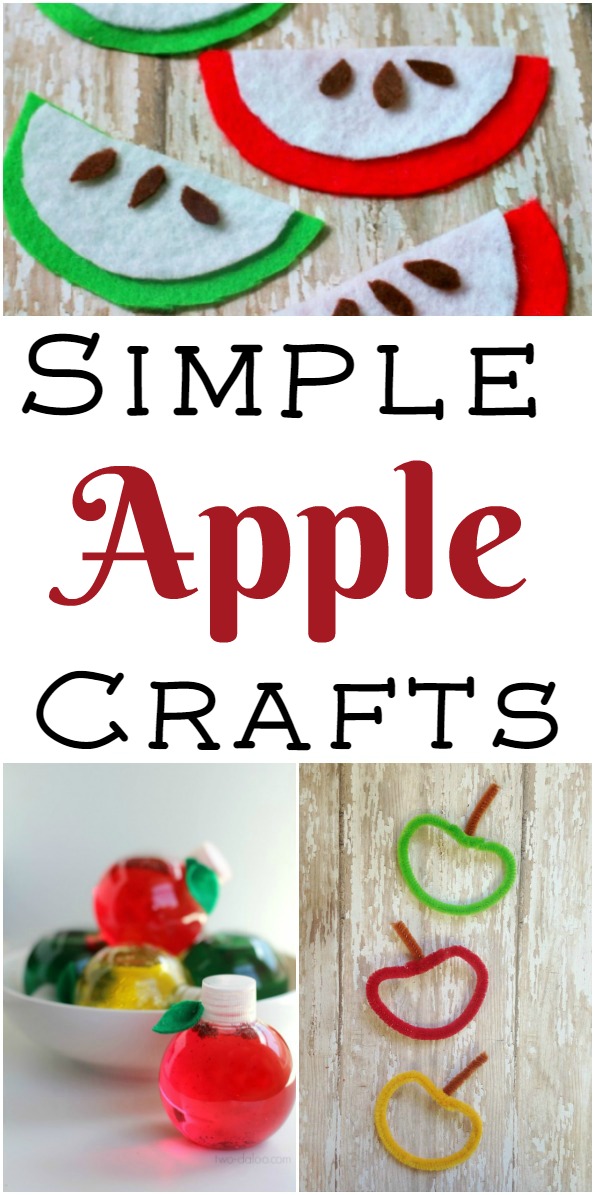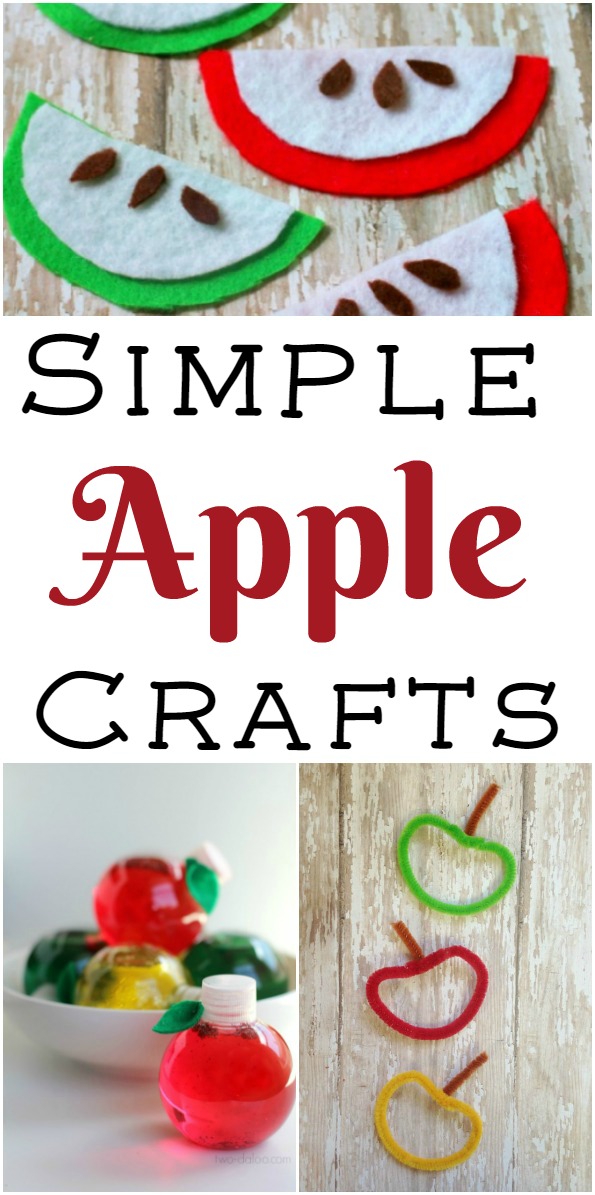 Apples can be used year round for everything from scientific experiments to art projects. What makes it even better is there are multiple kinds of apples to the possibilities are nearly endless with what you can do and just to get you started we put together a list of some of our favorite Apple Crafts and Projects you can do at home or on the go.
1. Paper Plate Apple Craft from I Heart Crafty Things All the supplies needed for this craft are relatively inexpensive and may cost you just a couple dollars.
2. Felt Apple Craft from Easy Peasy and Fun Another super easy and cheap craft that the kids can help with (possible teacher gift maybe)
3. Yarn Apple Garland Craft from Red Ted Art The kids will lvoe making this apple craft, just need 2 supplies and scissors!
4. Quick & Easy Apple Paper Plate Craft from My Joy Filled Life A tad different than the paper plate craft mentioned above but uses just one plate to make an eaten apple from.
5. Toddler Sensory Play Apple Picking from Lemon Lime Adventures While not a craft the kids can make, adults can make it for the kids to play with.
6. Apple Fingerprint Art from Kidz Activities Use 5 supplies to make something that just might make Mom tear up with having something personal from her little one.
7. Apple Print Ladybug from Artsy Momma Who knew that apples make perfect ladybug bodies? Super versatile for kids and endless color options.
8. Felt Apple Craft from Fireflies and Mudpies This craft will have kids using scissors so a great one for fine motor skills.
9. Caramel Apple Popsicle Crafts from The Classy Chapter A messy craft is always one the kids will love the most. Sprinkles may be optional but they make the craft in this case.
10. Pool Noodle Apple Craft from Life Over C's Who would have thought to use a pool noodle, right? Inexpensive craft that would be great for teachers!
11. DIY Pipe Cleaner Apple Crafts for Kids from Premeditated Leftovers This craft is super frugal to make and you can even find pipe cleaners at the Dollar Tree now.
12. Apple Footprint Craft from Raising Little Super Heroes How cute would this be with little baby feet? A great keepsake for parents.
13. Easy Apple Slices Felt Crafts for Kids from You Brew My Tea Love the extra ideas on how to use the Apple Slices after you finish them. Very creative and colorful craft for the kids. (Parents/Adults may need to help with glue guns)
14. Apple Suncatcher Toddler Craft from Simple Fun for Kids This can be done with toddlers to small school age children and come out really cute and colorful. Something the kids can hang up at home or in the classroom.
15. DIY Apple Toilet Paper Roll Craft from Crafty Morning This one gets a little crative with construction paper and something we always usally throw away, toilet paper rolls. Great idea for older elementary kids.
16. Easy Apple Sensory Bottles from Twodaloo KIds of all ages will love playing with these and you can even add some smaller items inside the bottles like beads and such to keep them looking inside too.
17. DIY Apple Paper Globe from Mons and Crafters These may not seem like the traditional apple crafts but are super creative for older kids to create something unique.
18. Apple Pie Scented Play Dough from Juggling Act Mama This craft uses another sense from the kids and lets them use their imagination to create apples and more.
19. Stuffed Paper Apples from Buggy and Buddy
20. Apple Print Bunting from Homemade Serenity While this may be something the kids can help with it can become home decor on the cheap after it's done!