* The $5 Coupon is GONE 🙁 
If you are not into clipping coupons, but want a GREAT deal on some Cover Girl Lash Blast Luxe Mascara, you can score a sweet deal today on Amazon. They have a $5 coupon you can "clip" online and save yourself a lot of money! This is 50% off the price at Walmart, if you bought them there.
A 3 pack of Cover Girl Lash Blast Luxe is on sale for $18.74. But when you choose the subscribe and save option it goes down to $17.83 with free shipping.
Plus there is that $5 off coupon you can "clip" making it (for me with tax) only $13.35 shipped right to my door with free shipping for 3 of them!
Some of you will have a lower total that don't have tax when buy from Amazon.
To get this deal:
Go HERE to the Cover Girl Lash Blast
CLIP the $5 off coupon!!!
Make sure to choose the color you want, there are 3 choices.
Choose the Subscribe and Save option ( you will get free shipping) You can pick the 6 month if you want. They will email you before it is sent, you can cancel at anytime after your order has shipped. You do NOT have to have it shipped again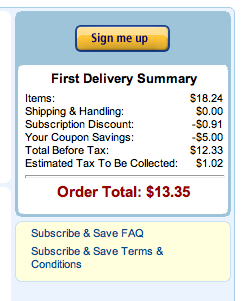 Indications
The blackest-black LashBlast formula, now tinted with luxe shimmers. The giant Luxe brush helps blast lashes to their biggest, boldest, and most beautifully shimmering. In 4 shades that are ready to match your every mood. Go HERE to get yours!