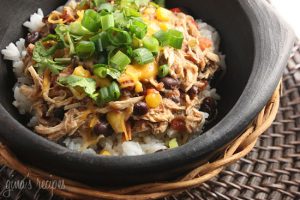 Photo Credit 
We just got home from church, and I have nothing planned for dinner. Last night on Facebook Shasta posted a recipe from Skinny Taste, called Santa Fe Chicken, then another reader commented she had tried it and passed it along to her sister. I had ALL the ingredients so I am trying it for dinner tonight. Plus, I can toss it in the crock pot and go for a bike ride with the kids before it rains!
** Totally has nothing to do with anything…. My 3 year old wanted cereal for lunch. I didn't care. He wanted Golden Grahams so I made him a bowl. As I handed it to him I took a bite ( which explains the 10 pounds I can't get rid of:)) OMGosh!!! When was the last time you had Golden Grahams? I ate the entire bowl and had to get him another, it was like dessert! That stuff is good! Frosted Toast Crunch, NOT so good 🙁 
I have to add this in also. I made a Chicken Tortilla Soup this week for a few girls at work. It DUMPED all over the back of my truck on the way to work. I even put the Crock Pot in a 9×13 in case it spilled. There was about 2″ of liquid all over the carpet in the back. It was so bad my husband had to come get my truck at work and take it to wet vac out the back. Needless to say, THIS is my NEW Crock Pot. The lid locks on.
Back to dinner: I have really overdone the taco dinner ideas lately, but I am not going to the store today, so I am serving this with rice.
Crock Pot Santa Fe Chicken
Gina's Weight Watcher Recipes
Servings: 8 servings • Size: 1 cup • Old Points: 3 pts • Points+: 4 pts
Calories: 190 • Fat: 1.5 g • Fiber: 5.6 g • Carbs: 23.1 g • Protein: 21 g
24 oz (1 1/2) lbs chicken breast
14.4 oz can diced tomatoes with mild green chilies
15 oz can black beans
8 oz frozen corn
1/4 cup chopped fresh cilantro
14.4 oz can fat free chicken broth
3 scallions, chopped
1 tsp garlic powder
1 tsp onion powder
1 tsp cumin
1 tsp cayenne pepper (to taste)
salt to taste
Combine chicken broth, beans, corn, tomatoes, cilantro, scallions, garlic powder, onion powder, cumin, cayenne pepper and salt in the crock pot
. Season chicken breast with salt and lay on top. Cook on low for 10 hours or on high for 6 hours. Half hour before serving, remove chicken and shred. Return chicken to slow cooker and stir in. Adjust salt and seasoning. Serve over rice (extra pts).