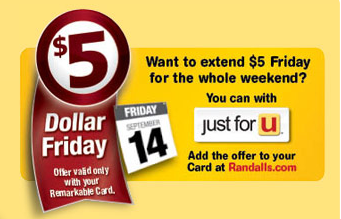 Today is $5 Friday at Randalls and Safeway stores! They always have some really good deals! Did you know if you load the $5 Friday deals to your Randalls card in the Just 4 U program you get the deals all weekend long?
When you go to the Just 4 U site, and click on the "your club specials" add all the $5 ones onto your card and they are good all weekend long!
If you are using the Just 4 U program, I need you to pay attention….
If you go the coupon center and add those coupons to your card, the ones that are Coupons.com coupons,  you will NOT BE ABLE TO PRINT THEM from your computer. Once they are added to your card they are considered printed!!!
Why is this a problem:
1. I want more then 1 coupon. On Coupons.com I can print 2. I only get 1 online.
2. Digital coupons DON'T double or triple! Randalls is the only place I have to double or triple my coupons, I want paper coupons  that I can do that with!
3. If you have a digital coupon and a paper coupon for the same item, the digital one comes off first and you won't be able to use the paper coupon. This is a problem because what if I had wanted my paper coupon to double? Now I can't even use it.
Basically for me, I use the "personalized deals" and the "club specials" in the Just 4 U program, I avoid everything else!
See all the Safeway/Randalls deals HERE.