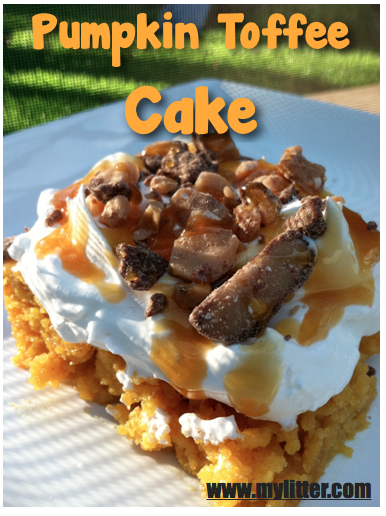 There are so many options with this versatile cake recipe. You might normally know this cake as Better Than S*& Cake, or in our home, Better Than Megan Fox Cake.
My Grandma made this version all the time, it is a fall cake made with pumpkin that changes it up! It is super easy and VERY good!
This is so super rich and very good! Be prepared to bring the recipe with you when you take it somewhere… Plus your house smells amazing!
Pumpkin Toffee Cake
1 (18.25 ounce) yellow cake cake mix
1 – 15 oz. can pumpkin puree
1/2 (14 ounce) can sweetened condensed milk
6 ounces caramel ice cream topping
3 (1.4 ounce) bars chocolate covered toffee, chopped
1 (8 ounce) container frozen whipped topping, thawed
Mix together the cake mix and pumpkin puree until a smooth batter forms. Bake cake according to package directions for a 9×13 inch pan; cool on wire rack for 5 minutes. Poke holes all over the cake, making sure not to go through to the bottom.
Slowly pour the milk and caramel over the top of the warm cake, letting it sink into the holes.
Let cake cool completely, then top with whipped topping. Decorate the top of the cake with some more chocolate toffee bar chunks. Refrigerate and serve cold!
This post may contain affiliate links.