Glitter grapes going down big time this weekend!!!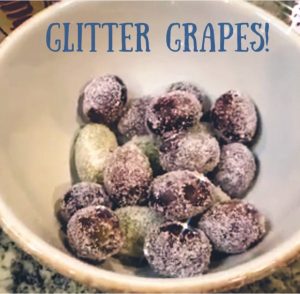 Also, an Ivanovsky child to not be named just realized that you pay for grapes by the pound when you check out… so if you eat them while in the cart you are actually stealing them…
SIGH… legit had no clue. I apologize Walmart, she really sincerely had no idea
How To Make Glitter Grapes:
Spread about 1/4 of the the gelatin mix on a pie plate or plate of your choice

Rinse the grapes under water, and place a handful on the plate
Shake the plate gently to roll the grapes in the gelatin, coating the grapes

Place coated grapes into a bowl

Repeat with the remaining ingredients until all of the grapes are covered

Place the bowl and let set in the refrigerator for at least an 1 hour, until the gelatin is set

The colder they are the better.



Happy Snacking!


Available for FREE Store Pickup or FREE Shipping on orders $35+

Making the most of your shopping this year? Don't forget to: 
Compare prices to Amazon (Amazon may have changed their price since we posted this!  They frequently change prices to match the major retailers)