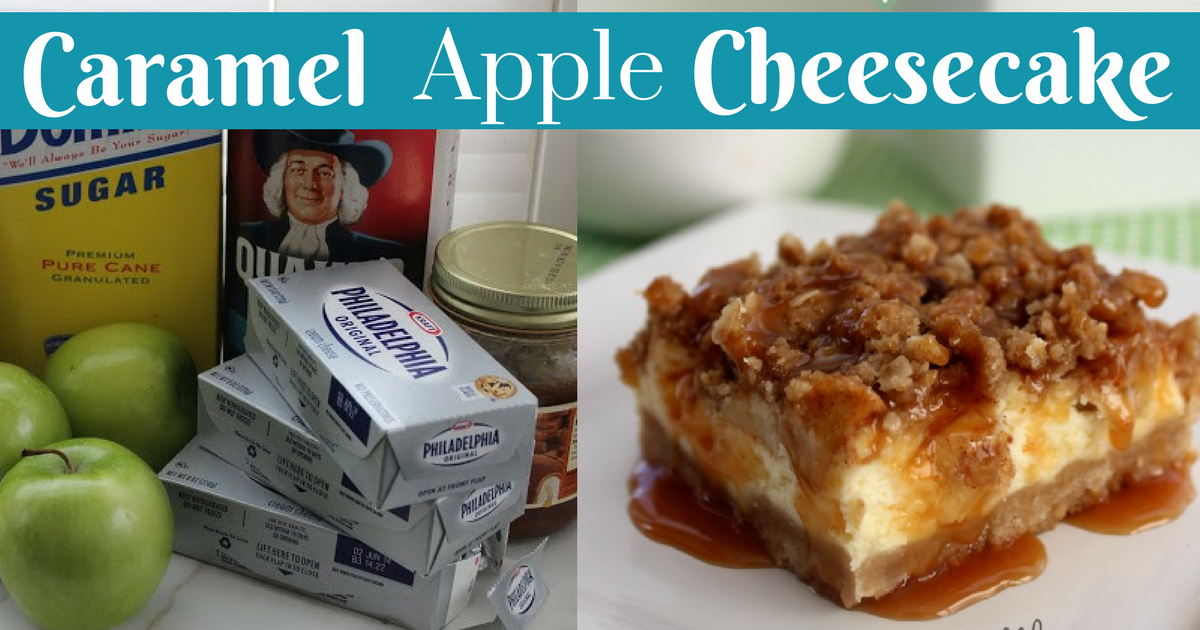 Caramel Apple Cheesecake is perfect for any occasion. I tend to make apple dishes in the fall, and forget to make apple items the rest of the year. This is such an easy and beautiful dessert, you need to try it! Plus who doesn't love a good cheesecake right?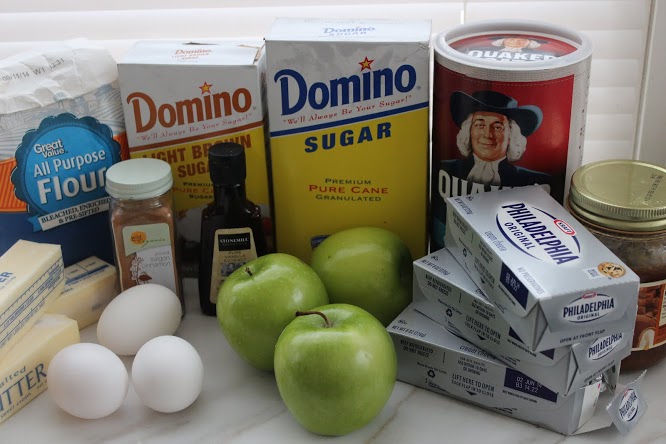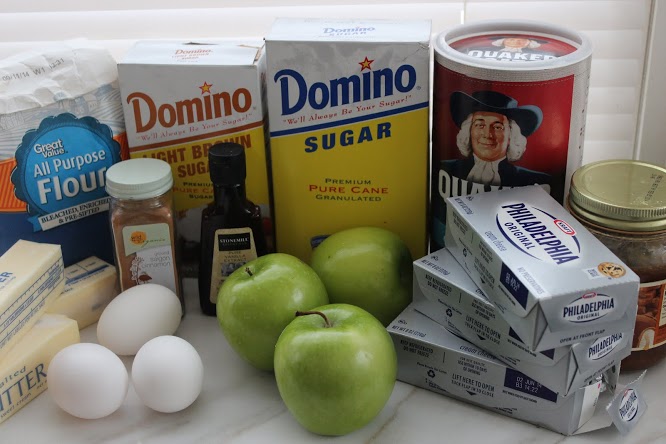 If you have made cheesecake before, this is really simple. I always have cream cheese on hand, a lot of times it is frozen in the freezer and I have to unthaw it, I stock up when they are on sale!
There are basically 3 parts to the recipe.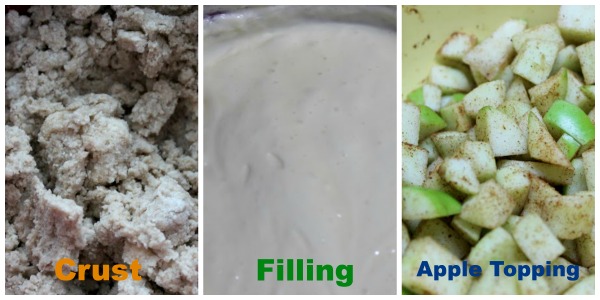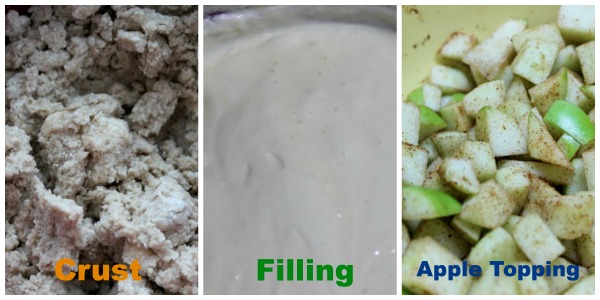 You could always omit the apples, but that would be really sad 

 I am just mentioning this as my SIL said she didn't like apples as I pulled it out of the oven. Funny, she had 2 pieces!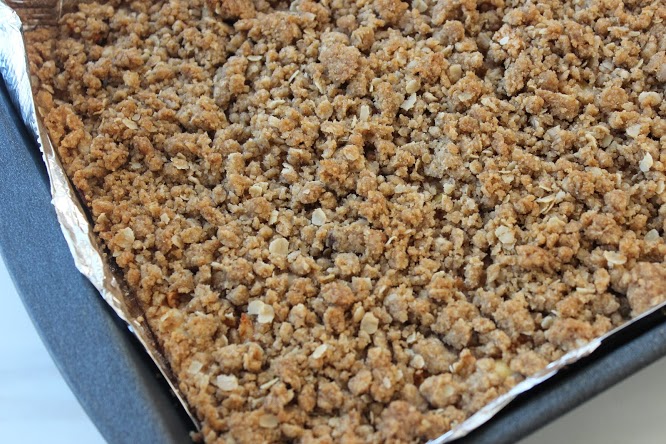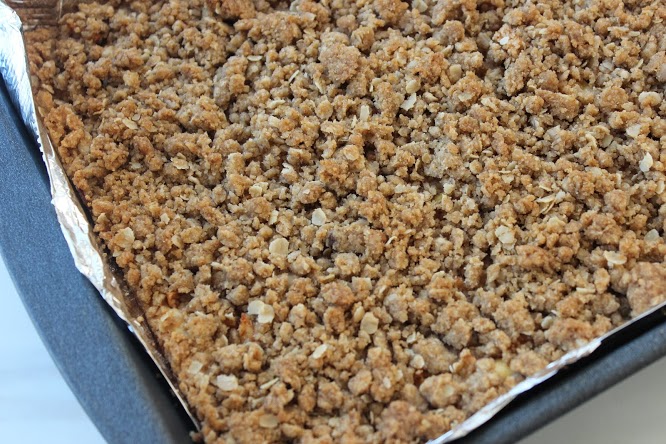 Let it cool completely before cutting to get the best cut. If you can make them the day before and keep in the fridge overnight you will get the best result! Either way, right out of the oven with a fork is good also!

Caramel Apple Cheesecake Recipe
Author:
Tiffany Ivanovsky
Ingredients
CRUST:
2 cup Flour
½ cup Brown Sugar
2 Sticks Butter softened
FILLING:
3 packages Cream Cheese (8 oz.) softened
1 cup Sugar
1 tsp Vanilla
3 Eggs
APPLE MIXTURE:
3 Granny Smith Apples peeled, cored and diced into small pieces
2 tbsp Sugar
½ tsp Cinnamon
¼ tsp Nutmeg
TOPPING:
1 cup Brown Sugar (packed)
1 cup Flour
½ cup Quick Oats
1 stick Butter Softened
Caramel Topping (to drizzle)
Instructions
Preheat oven to 350.
Line a 9X13 baking pan with aluminum foil be sure to leave overhang on all four sides.
Add flour and brown sugar to a medium sized bowl.
Cut in butter with 2 forks or a pastry blender until your mix is crumbly
Press mixture into prepared pan.
Bake for 15-20 minutes.
Add cream cheese, vanilla and Sugar to a large bowl.
Beat mixture until smooth.
Add eggs to mixture 1 at a time mixing to combine.
Pour mixture into baked crust.
Add Apples, sugar and cinnamon to medium sized bowl.
Mix together until apples are coated well.
Sprinkle apple pieces evenly over cream cheese mixture.
Add brown sugar, flour, quick oats and softened butter to a medium sized bowl and combine well.
Sprinkle topping evenly over your apple layer.
Bake for 45-60 minutes. Watch for filling to set (I do this by slightly jiggling the pan.
Allow to cool and then place in refrigerator. I let mine set overnight.
Remove from pan and cut into 16 even sized bars.
Drizzle with caramel topping.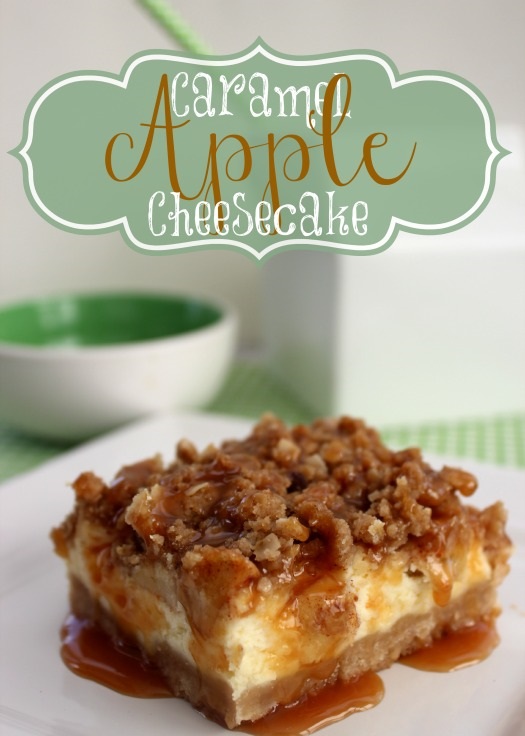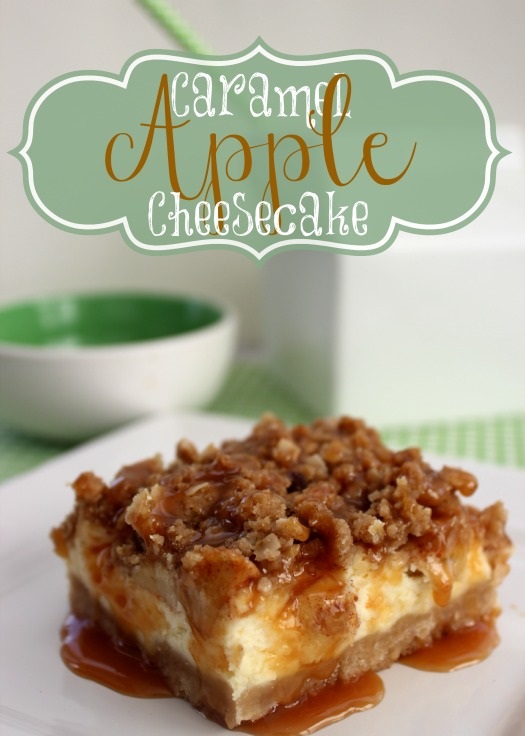 You may also enjoy:

Vintage Inspired Hot Apple Cider Metal Tin Home Decor Sign
Material: Metal

Size: 12" X 8" inches

Retro design, High quality, Eco-friendly

A wonderful piece to add to your kitchen, living room or home

Pre-drilled holes for easy hanging on the wall or door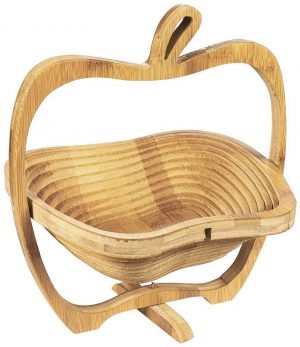 Apple Design Collapsible Bamboo Fruit Bowl
Featuring a spiral-cut design


This Fruit Basket can be collapsed into a flat apple shape to save space

Made from all-natural and eco-friendly bamboo

Store your fruit, veggies, snacks, etc

Size when expanded: 10.5 x 11.7 x 8.7 inches

Size when flattened: 10.5 x 11.7 x 0.5 inches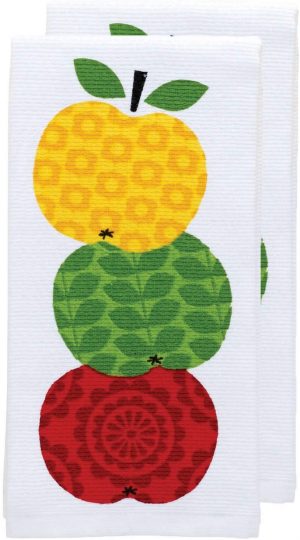 T-fal Textiles Double Sided Print Woven Cotton Kitchen Dish Towel Set, 2-pack (Apple Stack)
Measuring 16-inches wide by 26-inches long

Vibrant and fun colors


T-Fal textiles

Machine washable
Starbucks Naturally Flavored Sauce Variety Pack, 2 Caramel and 2 Mocha (4 Bottles Total)
Elevate your morning coffee

Starbucks Naturally Flavored Caramel Sauce has a delicious, smooth and buttery flavor and Mocha Sauce has a delicious, creamy and dark chocolaty flavor

Add one and a half tablespoons to your 8-oz. coffee for a splash of smooth and buttery caramel flavor

This variety pack includes two Caramel and two Mocha flavored Starbucks Sauces
Making the most of your shopping this year? Don't forget to: 
Compare prices to Amazon (Amazon may have changed their price since we posted this!  They frequently change prices to match the major retailers)