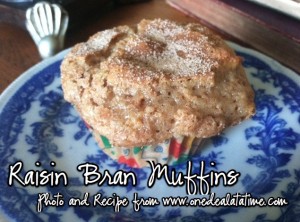 If you are like me and have a MEGA load of Raisin Bran right now… You need to try Raisin Bran Muffins! My Mom used to make these a long time ago and I forgot about them until as we were leaving my Aunt's in Iowa she whipped up a batch and loaded us up on hot steaming DELICIOUS muffins!
If you are not a fan of the cereal you should still try these they are AWESOME! Plus, you know we are freaks about our Raisin Bran, you can read about that HERE.
Raisin Bran Muffins
Ingredients
1 1/4 cups all-purpose flour
3 teaspoons baking powder
1/2 teaspoon salt
1/2 cup sugar
3 cups Kellogg's Raisin Bran® cereal
1 1/4 cups fat-free milk (I use buttermilk)
1 egg
1/3 cup vegetable oil or shortening
Directions
1. Stir together flour, baking powder, salt and sugar. Set aside.
2. Measure KELLOGG'S Raisin Bran and milk into mixing bowl. Stir to combine. Let stand 1 to 2 minutes or until cereal softens. Add egg and vegetable oil. Beat well.
3. Add flour mixture to cereal mixture, stirring only until combined. Portion batter evenly into twelve 2 1/2-inch muffin pan cups coated with cooking spray.
4. Bake at 400° F for 25 minutes or until golden brown. Serve warm.