2 different stores are already offering a $5 off a $25 purchase for black Friday!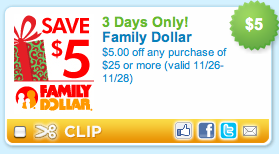 THe first one os for Family Dollar and you can print it at Coupons.com. To find it fast go to the "Expiring in 7 days" on the left side.
Then this SUPER HOT $5 off $25 for CVS can be found HERE. It is only good for 3 days, Fri-Sun. Check back later for the CVS black Friday match ups! Thanks Thrifty Couple!