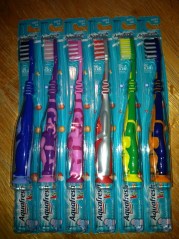 CVS is running the 5 for $5 Oral Health promotion this week, in the ad they show a bunch of products, one that they are missing and has been confirmed, is the Kids Aquafresh toothbrushes and toothpaste. These are priced at $1 each!
Now… in this last Sundays paper (yesterday) there were coupons for $1/1 off Aquafresh toothpaste and toothbrushes in the Red Plum. This will make them free! Thanks Save More for the photo and deal.
Aquafresh Kids Toothpaste and Toothbrushes $1
$1/1 Aquafresh Kids Toothpaste 4/17 RP
$1/1 Aquafresh Kids Toothbrush 4/17 RP
Total:  FREE!
** If your store is out of these, make sure to get a rain check!