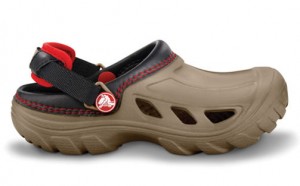 Crocs is having a kids summer clearance. Since we have summer type weather for 9 months out of the year my kids pretty much live in Crocs. The cool things for me also is that if I order the wrong size, I can exchange them at my local Crocs kiosk in the mall for the right size!
You can check out all the back to school styles here, although they are not on sale you can get free shipping, I like that they are making school approved styles, as my kids can't wear regular Crocs to school.
The kids clearance items are HERE.
The cute boys Crostrails (above) are HERE. They are marked down to $19.99. Plus, if you have not signed up for the Crocs newsletter, after you go do that, they will send you a 20% off code to use. You can also get FREE shipping when you use coupon code fallship or springfreeship. Thanks My Frugal Adventures!